electronics-journal.com
Written on Modified on
Circular Connectors, the Bedrock of Industrial Interconnect. As technology advances and establishes a foothold in new market sectors, it brings with a host of other dependencies and requirements. For example, as computer networking evolved, many different networking protocols and topologies vied for market dominance.
Over the years, Ethernet emerged as the information technology (IT) preferred networking method. IEEE standardisation further promoted adoption. Alongside the technology choice came a practical but equally important decision - establishing a connector standard from the many different types of competing formats. Today, the RJ45 Ethernet connector is ubiquitous.
Operational technology (OT) adoption for industrial process control and factory automation experienced a similar connector evolution. Unlike most IT environments, industrial environments present many challenges for connectors. Mechanical forces of vibration, shock, stress, the potential ingress of liquids or dust, and exposure to hazardous chemicals and contaminants are all experienced in the industrial domain. Environmental factors of temperature and humidity are omnipresent in most manufacturing locations too. The continued advancement of automation and technology deployment also introduces the requirement for connectors to conform to established electromagnetic standards for immunity (EMI) and compatibility (EMC).
For industrial OT applications, the circular M8 (8 mm) and M12 (12 mm) locking connectors emerged as the defacto method of connecting everything from actuators to sensors. Their compact yet versatile construction provides a variety of pins, pin arrangements (termed coding), voltage and current ratings, and data bandwidths. The M12 connector, in particular, has become the world standard for connecting data, signals, and power. It perfectly balances the demands of use in an industrial environment while also meeting the space constraints of high-density control cabinets.
For example, A-coding and B-coding suit Fieldbus, DeviceNet, and Profibus connections. For Industrial Ethernet, EtherCat, and PROFINET, D-coding connectors are specified. Figure 1 highlights the many different data, signal, and power connector codings across the M5-M12 connector series.
M12 Connector Evolution
As industrial operational performance initiatives, such as Industry 4.0 and the industrial internet of things (IIoT) result in further technology deployments, there is an increased need for connectivity. M12 based applications need installers to spend more time screwing in sensor, actuator, and power connectors. The requirement for more M12 connector sockets in control equipment also involves more manufacturing time and connector density challenges. Responding to market demands, Phoenix Contact has developed & standardized (IEC 61076-02-010) an innovative alternative to the traditional M12 screw locking arrangement.
The new M12 connectors from Phoenix Contact feature an internal push-pull locking mechanism for cable connectors and enable a new flush-mounted female push-pull socket for efficient & smooth device connection and integration
The
new M12
socket securely accommodates existing threaded connectors and the new push-pull connector.
The internal push-pull arrangement offers a tool-free and straightforward approach to performing a fast, secure connection even in a confined space. Figure 2 illustrates a cut-away view of the internal push-pull cable connector mating into a push-pull device socket.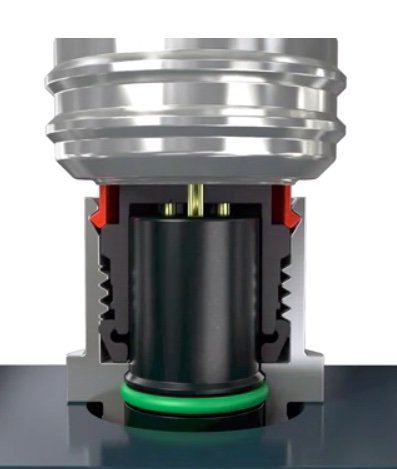 The internal locking push-pull cable connector mated into a push-pull device connector.

Compared to conventional M12 device connectors, the push-pull connector can play to its strengths in space-critical applications where a slightly higher connector density is possible. It is also suitable for multi I/O designs and those where frequent disconnect / connect cycles are necessary, such as maintenance and reconfiguration.
M12 SMD (Surface Mount Device) for Reflow Assembly on the Rise
Traditionally, the majority of M12 device connectors have used the through-hole mounting approach (THR = Through Hole Reflow). However, with industrial automation trends such as edge computing, big data (data collection e. g in machines – more & more sensors), and digitalisation, there is an increasing demandfor industrial control equipment. Equipment designers and automation engineers prefer automated production of printed circuit boards using pick and place machines and solder reflow assembly, which speeds up equipment manufacture and leads to a very consistent quality level.
The aforementioned megatrends lead to more sophisticated functionalities and consequently to an exponential increase in PCB components. As a result, Phoenix Contact has established a comprehensive portfolio of M12 SMD device connectors. Surface-mounted connectors are particularly suitable for data and signal applications and typically accommodate low current power connections. For high power and current applications, the through-hole connector is recommended.
The
Phoenix Contact M12
surface-mount device connector is available for the hybrid power and data Y-coding, and the Gigabit X-coding.
The M12 SMD device connector experiences no mechanical stress transfer from the M12 cable connector thanks to the nature of the M12 connector's two-piece construction approach - see Figure 3.
The two-piece surface mount device connector from Phoenix Contact showing the optional housing shield spring.


The reflow capable M12 SMD device connector is available in tray or tape-on-reel packaging formats for automated assembly. It can accommodate currents up to 4 A and voltages up to 250 V. The SMD connectors are available for the M8 (3 to 8-pins) and the M12 (4 to 17-pins).
Further M12 evolution: the Advent of Higher Power Capabilities
In addition to signals and data, power is now also being transmitted via M12 connectors. Due to ever more compact and powerful electronic devices, the demand from the industry is increasing for a likewise compact connector solution for power transmission.
As the use cases for industrial connectors become more diverse, there is a need to extend the power carrying capabilities of the M12 connector beyond the maximum 4 A per pin limit. The IEC 61076-2-111 compliant
Phoenix Contact L, K, M and S codings
introduce a higher current capability - see the table illustrated in Figure 4 - all within the compact M12 package form factor. Note the L coding is for DC and the S, K & M codings stipulated for AC applications.
The focus on the market and at Phoenix Contact is on K, S and M codings for AC and L coding for DC applications.

The increased current and voltage capabilities of the M12 connector series offered by the L, K, and S coding arrangements.


The S coding accommodates up to 16 A (three wires) or 12 A (four wires) @ 630 VAC. The K coding UL specification uses five wires (four and protective earth) to deliver up to 16 Amp at 600 VAC (IEC 630 VAC).
A variety of housing options are available for these new high power M12 connectors.
Continued M8 Series Evolution Delivers Miniaturisation for Data Transmission Applications
For over a decade, the M12 D coded connectors have been the go-to industrial-grade connector for data networking methods such as PROFINET and Ethernet Cat5. With factory floor space at a premium and control cabinet density under pressure, the market has needed a more compact yet robust connector alternative for a while.
The
Phoenix Contact M8 D-coded
connector yields the same 100 Mbps data capabilities of the equivalent M12 connector but in a 30 % smaller package, permitting high data rates within a confined space. With a maximum current rating of 4 A and 60 V, it also suits power over Ethernet deployments.
The M8 D-code is available for shielded and unshielded cables, in a surface-mount version - see Figure 5.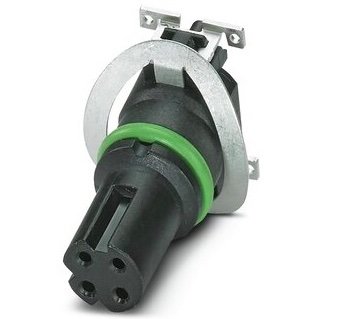 The flush-type Phoenix Contact M8 D-coded surface mount connector designed for Ethernet Cat5 and PROFINET networking applications.

M8 and M12 Circular Connectors – Innovation and Evolution With No End In Sight
The M12 and M8 series of robust circular connectors have continued to evolve over the past decade to satisfy the growing demands of industrial automation applications.
In this short article, we've highlighted just some of the many innovations Phoenix Contact continue to make to these connectors an essential component for any automation system.
www.mouser.com