electronics-journal.com
Written on Modified on
New RF Front End connectivity solution to boost Wi-Fi and Bluetooth performance
The last two years have brought significant changes to how we manage our personal and working lives. Many of the activities we used to do elsewhere were unexpectedly pulled into our homes. Suddenly we found ourselves working, learning, and socializing remotely; making video calls; streaming HD movies; playing online games; and more.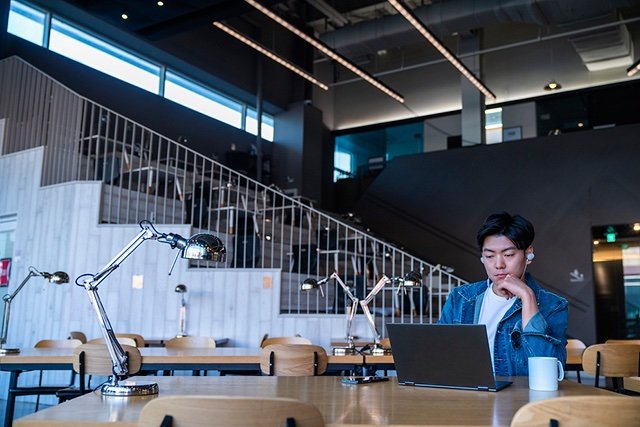 All this in-home online activity pushed our Wi-Fi-connected devices' capabilities to their limits and taxed our Wi-Fi networks in terms of speed and reliability. With more users sharing the same Wi-Fi networks, we desperately needed more bandwidth to cope with the higher data demands at home.
A rapid increase in at-home and at-work data consumption has accelerated the demand for new, faster Wi-Fi standards such as Wi-Fi 6, Wi-Fi 6E, and now Wi-Fi 7 – standards that are implemented in frequencies that are in close proximity to 5G cellular frequency bands. The simultaneous use of 5G cellular, Wi-Fi 5 GHz, and Wi-Fi 6GHz band is creating RF design challenges that must be addressed with the FEM (Front End Module) design and by using high quality bandpass filters such as
Qualcomm ultraBAW
filter technology.
As a result, the need for advanced, high-performance RF connectivity solutions that address complex technical challenges such as higher frequencies, larger bandwidths, and RF simultaneous use or concurrency with 5G and Wi-Fi has increased.
Our end-to-end design: The advantage for OEMs

Wi-Fi Front End Modules are integrated RF components that help amplify and route signals between the Wi-Fi SoC and the antenna. This typically consists of power amplifiers (PA), low noise amplifiers (LNA), filters, and switches packaged inside a module. An end device typically includes a FEM for 2.4 GHz Wi-Fi and Bluetooth frequencies, and a FEM for 5-7 GHz Wi-Fi.
Let's take a look at how FEMs work.
On the receive (Rx) side, an integrated LNA boosts weak incoming RF signals. The main objective is to boost the signal-to-noise ratio (SNR), which makes the listening device more sensitive to the signal.
On the transmit (Tx) side, an integrated PA boosts the outgoing RF signals that are delivered from the Wi-Fi SoC. This is done in a highly efficient and linear manner, such that transmission range is extended while power is efficiently used.
To achieve the best module level performance, at Qualcomm Technologies we co-design the PA and LNA together in-house so that they work together as efficiently as possible. To achieve the best possible system-level performance, the Wi-Fi FEMs are designed in close collaboration with the Wi-Fi SoC and complementary discrete filter solutions. In addition to Wi-Fi and Bluetooth operating harmoniously together, there must be seamless concurrency with 5G cellular signals as well. Qualcomm Technologies is uniquely positioned as the only technology provider providing a comprehensive, baseband-to-antenna wireless solution.
Precise integration of the PA and LNA into a single-chain package gives OEMs the flexibility to place the FEMs right next to each Wi-Fi antenna. This placement flexibility leads to an optimal board layout that can maximize KPIs and realize a design's full RF performance potential by minimizing the trace length between the antenna and the amplifiers.
These benefits have led to remote Wi-Fi FEM architectures becoming the standard approach when designing Wi-Fi enabled applications.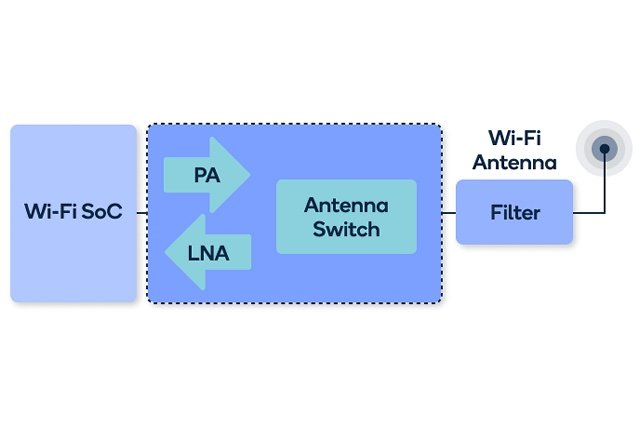 Modem-to-antenna path (simplified).

We are unveiling our third-generation connectivity FEMs for Wi-Fi 7 and Bluetooth, and automotive-grade Wi-Fi FEMs for automotive applications.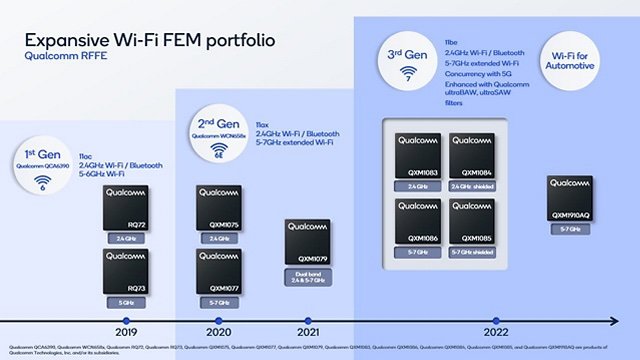 High speeds and low latency for new Wi-Fi applications

Wi-Fi 6E and Wi-Fi 7 utilize higher frequencies (6 GHz to 7.2 GHz) to enable extremely high throughput and low latency wireless networks that support new applications such as AR/VR, gaming, and the metaverse. These higher bandwidths and more complex modulation schemes require a system co-design utilizing the latest Qualcomm ultraBAW filter technology along with enhanced packaging technologies.
This new RFFE connectivity offering also enables our unique
High Band Simultaneous Multi-Link
feature as part of
FastConnect 7800
.
RFFE adjacent business segments

A comprehensive modem-to-antenna offering gives Qualcomm Technologies the unique ability to enable the latest Bluetooth and Wi-Fi 7 solutions, all while helping improve concurrency with cellular technologies (5G, 4G, etc.).
In addition to mobile phones, these FEMs support adjacent markets such as IoT, mobile broadband, automotive, wireless infrastructure, networking applications, and PCs. For some of these opportunities we have modified our IP to provide specific flavors needed to address market specific needs. One example is our new automotive Wi-Fi FEM — Qualcomm QXM1910 AQ — which is designed to serve auto manufacturers and the demand for automotive-grade, in-vehicle Wi-Fi components.
OEMs using these FEMs can benefit from best-in-class performance, power efficiency, competitive cost, and a complete validation of our modem-to-antenna system, while accelerating time-to-launch.
By selecting our Wi-Fi Front End solutions, customers can secure their roadmap to the latest innovations and features that Wi-Fi 7 adds to older Wi-Fi standards – including new frequency bands, new data rates, and high band simultaneous usage.
Anyone can talk 5G and connectivity. Qualcomm Technologies is driving these innovative technologies forward in tangible ways for both operators and OEMs, across product verticals — enabling a world where everyone and everything is intelligently connected.
The new Wi-Fi FEMs are currently sampling to customers, and we expect 5G devices featuring the new FEMs to launch in the second half of 2022.
www.qualcomm.com