electronics-journal.com
Written on Modified on
S-DIAS Modules with VARAN and EtherCAT
The compact S-DIAS series has grown with the CPU module CP 313 and the compact control module EC 121, which provides even more application possibilities of the automation system.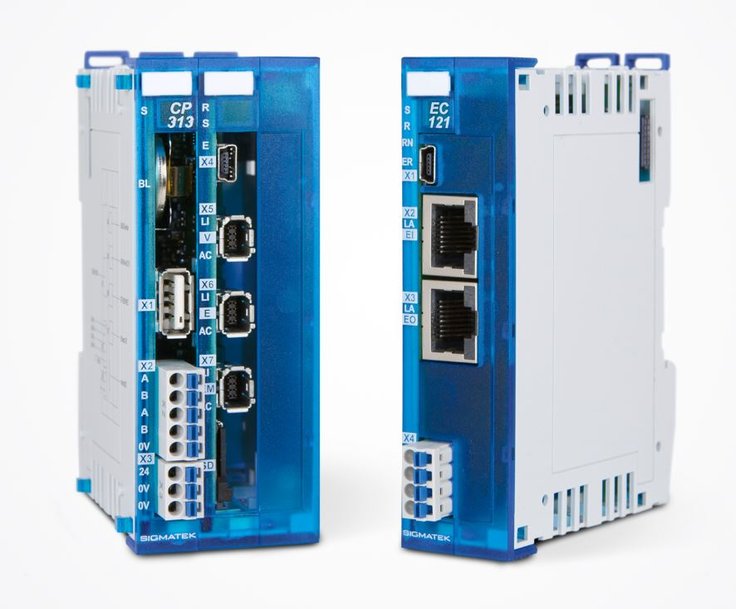 The CPU module CP 313 with dual-core EDGE2 Technology processor is a high-performance processor unit for control, regulation and motion tasks. A wide range of interfaces ensure that the CP 313 finds the right connection in various applications: CAN, USB, Ethernet and VARAN bus. An EtherCAT drive controller interface is also on board. Drives that speak EtherCAT exclusively, can therefore be integrated into the SIGMATEK system. The CPU module also has an exchangeable 512 MB microSD card, a RealTimeClock and a zero-voltage proof RAM area.
With the EC 121 interface module, S-DIAS I/O modules can be integrated into an EtherCAT bus system. In addition to 1x EtherCAT In and 1x EtherCAT Out, the EC 121 also provides power for 32 modules and detects the connected S-DIAS I/Os automatically. The compact interface module provides the EtherCAT slave configuration and assumes the data exchange between EtherCAT and the S-DIAS system bus.
www.sigmatek-automation.com