electronics-journal.com
Written on Modified on
With a new catalogue, Provertha makes it easier to find products and offers customers a wealth of detailed technical information and appealing product photos in a clearly arranged format.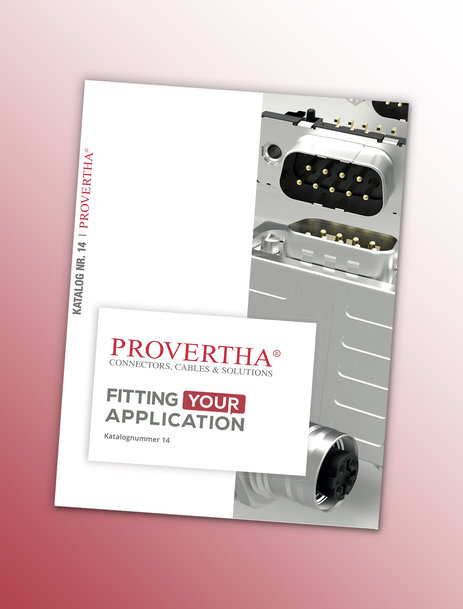 The revised and more than 200-page catalogue is available to customers and all interested parties as a high-quality printed product in German and English as well as a PDF file for download on the homepage.
As major additions, it includes for the first time the TMC series with high-performance PCB D-Sub connectors, the M12-Mini series for field assembly in the codings D, A-5 and X as well as fully shielded modular distribution solutions in die-cast zinc for high requirements in terms of EMC and mechanical load capacity. With the title of the new catalogue, Provertha is also reinforcing its company motto "Fitting your application" as a promise of quality to its customers.
New M12 series: Mini in design and Maxi in performance
The Provertha M12-Mini series are the most compact M12 connectors with cable gland. Despite its miniature size, this series is characterised by extreme shock and vibration resistance and ensures compact, safe and reliable data and signal transmission. The performance of Provertha's M12-Mini series, in A-coding (5 and 8 pin) as well as B and D coding (Ethernet), has recently been officially documented through certification to relevant standards. This means that all M12-Mini connectors have official certification of their shock and vibration resistance and electrical transmission performance in accordance with tests to EN 61373, category 2, and DIN EN 61076-2.

Extended D-Sub range at a glance
With the D-Sub connectors, a good overview is very helpful for customers, as there is a tremendous variety here. Following Provertha's acquisition of the ERNI TMC product range in 2019, Provertha customers can now choose the optimum products to fit their application from a very extensive D-Sub portfolio – both for PCB connection in SMT, THT, Pressfit or THR and for cable connection in crimp technology, IDC or as a hand soldered version. D-Sub hoods with the time-saving Quick Lock push-pull quick locking system completes the portfolio in line with the slogan "Fitting your application".
Modular fully shielded distribution systems in IP 67 for maximum flexibility
The components of the modular distribution systems have been specially designed for solutions with high EMC safety and for high mechanical requirements in harsh environmental conditions. A wide variety of connection options are available to the user. By way of example, a plug-in M12 or M8 connection in the common codings or a vibration and torsion-proof direct cable connection using a crimp flange or crimp sleeve system, as well as external cable clamping technology for very small or very large cable diameters. In addition, a ready-made "Fitting your application" complete solution with encapsulation in protection class IP67 is available for customers on request.
Download or order catalogue
The new catalogue makes it easy to obtain a quick overview and detailed information on the individual connector variants. The catalogue can be downloaded free of charge from the Provertha website in PDF format:
https://www.provertha.de/en/downloads/.
www.provertha.com