electronics-journal.com
Written on Modified on
Lane Electronics, a leading franchised distributor for many of the industry's major electrical and electronic connector manufacturers, is an authorised distributor for Positronic, a market leading manufacturer of high reliability signal and power connectors providing mission critical performance.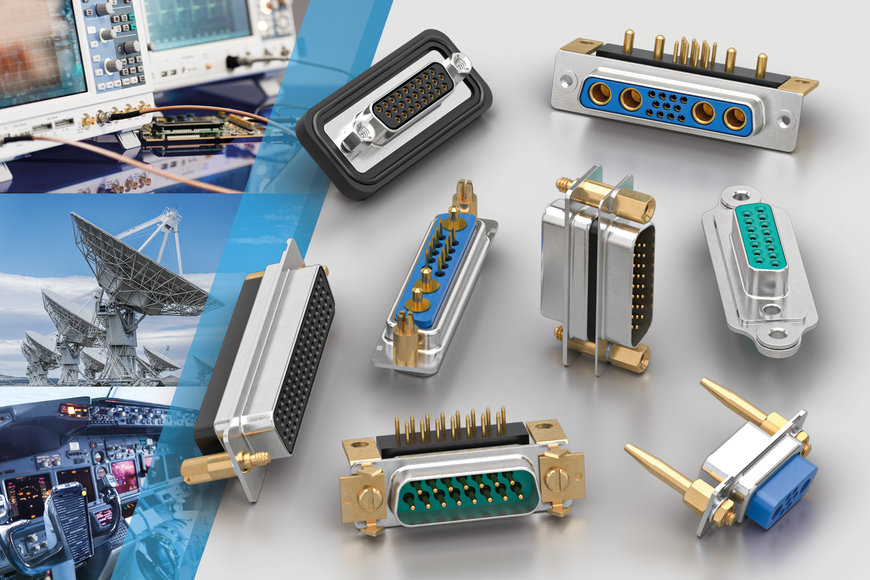 Positronic is a major source of industry standard D-Sub subminiature connectors suitable for aerospace, military, industrial and medical, applications.

The D-Subminiature connector, popularly known as a D-Sub, is the most common connector used in the electronics industry and is named after the distinctive D-shaped metal shell. Product families available from Lane Electronics include the Mil-Spec M24308 may be specified in multiple performance options for best cost/performance ratio.

With over twenty D-Subminiature product series to choose from Positronic boasts (one of?) the widest array of D-Sub connector options in the industry. D-sub connectors contain two or more parallel rows of contacts surrounded by the metal shell. The shell not only provides mechanical support and ensures the correct orientation, but it may also screen against electromagnetic interference (EMI). They are available in RoHS and non-RoHS compliant versions and are designed for board to board, cable to cable or board and panel to cable or board applications.

All Positronic D-subs feature solid, machined contacts to ensure reliability, durability and strength, with many series providing the option of the high-performance PosiBand contact. PosiBand contacts use a two-piece contact design. Each piece serves a separate function. The main body of the contact provides the mechanical platform for the contact system. This includes a true closed entry contact opening. The PosiBand spring clip provides normal force on the male contact. Several contact termination styles are available, including crimp, solder cup, PCB solder, PCB press-fit and wire wrap connections. Locking systems are implemented to ensure the connectors remain securely mated under shock and vibration conditions.

The standard density high reliability product types are available in in six package sizes with 9-50 size 20 or 22 contacts with current rating per contact up to 14A. The Combo-D connector is sub-category of D-sub connectors, which is characterised by a mixed density insulator that combines size 8 and size 20 or 22 contacts allowing for the combination of signal, power, fiber optic, coax, and/or high voltage contacts in a single package. Ideal as an input/output connector interface, these connectors have many package sizes and contact variants and a variety of accessories and options including blind mating and sequential mating.

Positronic offers a wide variety of sizes, termination styles and contact variants to suit many applications, including:

Standard density standard density D-subminiature connectors for general purpose signal connectivity.
Standard and high-density combo D-sub connectors which can combine signal, power, coax, thermocouple and high voltage applications.
High-density D-subminiature, Positronic version with increased contact density.
Environmentally sealed and waterproof, high reliability D-sub connectors.
To complement this wide range of connectors Lane Electronics can also supply r accessories including D-sub rectangular cable adaptors and hoods from Positronic, ITW McMurdo, TE Polamco, Glenair and customer-specific solutions from sister company Weald Electronics.

Nick Wheeler, Sales Director of Lane Electronics, says, "D-Sub connectors are in use in every area of the electronics industry. They are cost effective, flexible and reliable. Our customers appreciate the quality of the Positronic products we supply and can rely on them to ensure their systems have long term and trouble-free connectivity."

Lane Electronics is an ideal source for all key connector types including circular, filtered, RF, coaxial, subminiature, backshells and adaptors, aerospace, test and measurement, IDC, PCB connectors, edge connectors and connectors for rack and panel applications.

www.fclane.com