electronics-journal.com
Written on Modified on
Kontron announces Arm SystemReady IR certified edge compute platforms
Kontron offers scalable platforms for IoT with an NXP LS1028-based KBox IoT gateway and two SBCs based on NXP i.MX8M and i.MX8M Mini.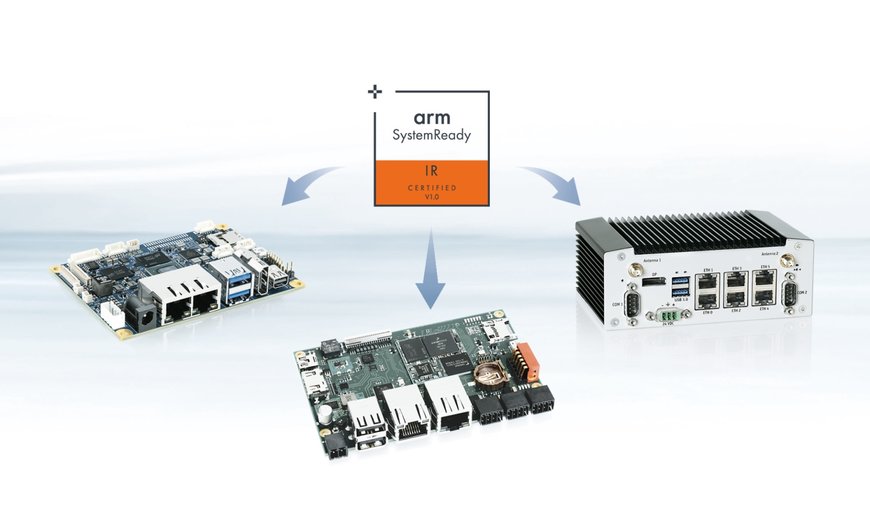 Kontron, a leading global provider of IoT/Embedded Computing Technology (ECT), joined the open, collaborative, standards-based initiative Arm
®
Project Cassini to deliver a seamless cloud-native software experience for devices based on Arm Cortex
®
-A. Developers of IoT and infrastructure edge solutions can access the power of Project Cassini today with Arm SystemReady certified devices and OS Linux support from the Arm ecosystem.
Arm SystemReady is a set of standards and a compliance certification program that enables interoperability with leading commercial operating systems and hypervisors, so that software just works. SystemReady IR certified products provide a solution for edge and IoT devices, ensuring interoperability with embedded Linux and other embedded operating systems.
Kontron now offers three SystemReady IR certified products for use with Embedded Linux (Yocto Distribution) to meet different performance, space and power requirements: The KBox A-203-LS, an IoT gateway based on the NXP processor LS1028A offering five TSN (Time Sensitive Networking)-capable 1GB Ethernet ports that meet IEEE 802.1 TSN specifications. It is ideal for vendor-independent connectivity in Industry 4.0 applications. The pITX-iMX8M cost-optimized 2.5" SBC features NXP's dual or quad core Arm Cortex-A53, a Cortex-M4 coprocessor and full 4K UltraHD resolution. Along with 2x GbE and USB 3.0 it is the perfect foundation for sophisticated applications.
The baseboard BL i.MX8M Mini hosts a soldered SoM with a high performance 1.6 Ghz quad core Arm Cortex-A53, an Arm Cortex-M4 and various interfaces such as 1GbE, USB, serial, CAN, DIO and an LCD interface. It is the perfect solution for sophisticated 3D graphics applications and computing-intensive system architectures. In addition to an attractive price and extremely low power requirements, the i.MX8M Mini processor boasts a high-performing multicore (up to 4 cores) application processor.
"Kontron sees growing demand from customers for a greater selection of Linux distribution support and regular security updates on Arm-based edge devices. Customers need fast and hassle-free portability and prototyping of their IoT applications based on a homogenous ecosystem, without having to provide specialized embedded software know-how from the start", says Christoph Neuman, VP Technology of the Kontron group.
"Arm's Cassini initiative helps the IoT ecosystem to achieve this goal and we are happy to have our first three edge compute platforms SystemReady IR certified, with future platforms to follow, bringing the above values to customers and the developer ecosystem."
"Project Cassini is an industry-wide initiative that enables software and security to just work, empowering a cloud-native ecosystem to thrive and innovate on Arm-based devices," says Mohamed Awad, vice president, IoT and Embedded at Arm. "Kontron's certified edge product portfolio joins a growing number of edge and IoT solutions that are accelerating the Project Cassini vision for OEMs and developers everywhere."
www.kontron.com