electronics-journal.com
Written on Modified on
1U high modular power supply delivers up to 800W with BF-ready isolation and extremely low acoustic noise - quiet by design
TDK Corporation announces the introduction of the TDK-Lambda brand 1U high MU4 series of AC-DC modular power supplies. The product's very low acoustic noise is strongly desired in test and medical applications where audible disturbances need to be kept to a minimum.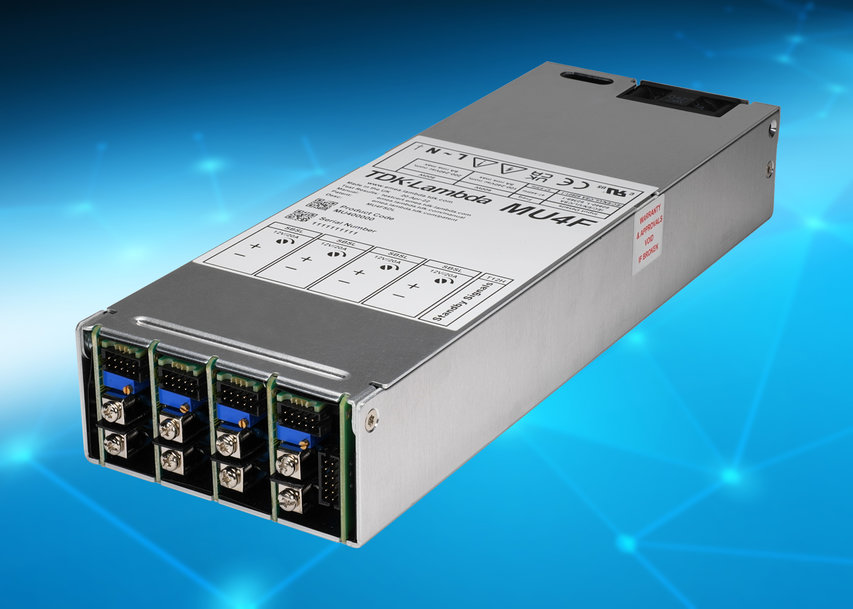 The modular MU4 can provide up to five isolated and regulated outputs and deliver up to 800W. All models in the MU4 series feature full MOPPs (Means of Patient Protection) isolation, including output to earth, to simplify implementation into BF-rated medical applications. Other target applications include dental, test and measurement, broadcast, professional audio, and industrial equipment.
With intelligent fan control, the MU4 fan rotation speed is reduced, producing audible noise as low as 36dBA*. Its microcontroller algorithm monitors the temperature of the primary converter and each output module, allowing the fan speed to be adjusted for optimum cooling.
The low profile, 1U high, MU4 measures just 89 x 41 x 257.5mm (W x H x D), allowing a smaller system enclosure.
Initially, nine modules are available, offering a continuous range of voltages from 3.3V to 104V with ratings from 150W to 480W. Options include a 5V / 2A standby voltage, fan fail signal, inhibit and enable (for individual or all outputs), DC good, PMBus™ communication, and current share for parallel configurations.
Configuring and selecting products from the MU4 series is extremely simple using the online Quick Product Finder, which automatically produces an optimised module selection from a wide range of options. Upon entering the desired output voltages and currents, it will automatically produce a 7-digit code to facilitate easy order placement.
With efficiencies up to 90% the MU4 series operates over 85 to 264Vac input, providing 800W at 180 to 264Vac and 600W at 90 to 180Vac input, derating applies below 90Vac. The maximum leakage current is 300µA - including all tolerances - and the touch current is <100µA. The power supply will operate in ambient temperatures of -20°C to +70°C, derating linearly to 50% load above 50°C.
The MU4 series has an input to output isolation of 4,000Vac (2 x MoPP), an input to earth isolation of 1,500Vac (1 x MoPP), and an output to earth isolation of 1,500Vac (1 x MoPP) for suitability in B and BF rated medical equipment. Safety certification is to IEC/EN 60601-1, ES 60601-1. IEC/EN/CSA/UL 62368-1, (IEC/EN 61010-1 designed to meet) and is CE / UKCA marked to the Low Voltage, EMC and RoHS EU Directives and UK regulations. The models meet EN 55011-B, EN 55032-B radiated and conducted emissions and comply with the EN 60601-1-2:2015 (Edition 4) and EN 61000-4 immunity standards.
Patent pending. Configuration dependent, nominal conditions of 25°C, 115Vac/240Vac and 80% unit power.
For more information about the TDK-Lambda MU4 series, please call TDK-Lambda directly on +44 (0)1271 856600 or follow this
link
.
www.tdk.com