electronics-journal.com
Written on Modified on
KONTRON INTRODUCES THREE NEW COM EXPRESS® MODULES BASED ON 13TH GEN INTEL® CORE PROCESSORS
Kontron introduces new COM Express® modules, COMe-bRP6, COMe-cRP6 and COMe-mRP10, based on 13th Gen Intel® Core. They offer a significant increase in performance compared to the previous generation and are equipped with up to 14 cores based on Intel® performance hybrid architecture.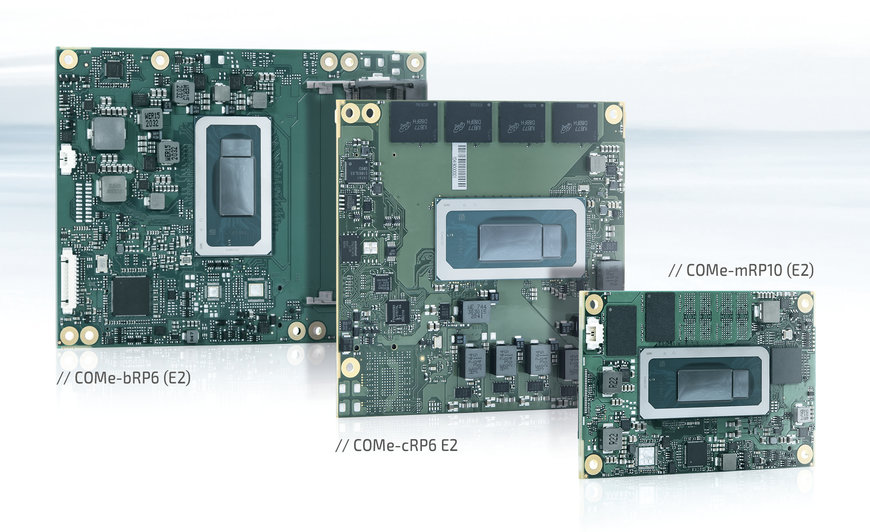 The new COM Express
®
modules based on 13th Gen Intel
®
Core™ technology Raptor Lake-P are supporting up to 14 cores (up to 6 P-cores and up to 8 E-cores) based on Intel
®
performance hybrid architecture. Up to 96 graphics execution units driven by Intel
®
Iris
®
Xe graphics deliver high-performance graphics and fast video processing for impressive experience and highly parallel AI workloads with four display pipes and Pipelock synchronization. The modules come with either DDR5 SO-DIMMs or LPDDR5 soldered down memory with up to 64 GByte resp. 32 GByte for the COMe-mRP10 and up to 2.5 Gbit Ethernet, including TSN support (on dedicated SKUs). As storage medium, a NVMe SSD up to 1 TByte can be optionally integrated onboard.
Due to the scalable SoC and performance range, Kontron will provide the new technology on three COM Express
®
form factors: Basic and Compact (Pin-out Type 6 compliant) as well as Mini (Pin-out Type 10 compliant). For the first time, Kontron offers the Intel
®
Core™ Technology on COM Express
®
mini, allowing customers to benefit from an extremely high performance in a small form factor.
The COM Express
®
modules provide essential, industrial-grade features such as support for In-Band Error Correction Code (IBECC) memory, Intel
®
Time Coordinated Computing (Intel
®
TCC), Time Sensitive Networking (TSN) and an extended temperature range of -40 °C to +85 °C (operating). Selected SKUs are compliant to industrial use conditions of 100 per cent operation over 10 years for best-in-class durability. IoT differentiation also guarantees long-life availability.
All features are perfectly suited for applications in demanding areas such as industrial automation, health care and the automotive sector. The Kontron COM Express
®
Eval Carrier 2 Type 6 with 5 mm COMe connector offers a set of standard interfaces, thus optimizing the design-in and evaluation tools for the COMe-Type 6 Modules.
www.kontron.com