electronics-journal.com
Written on Modified on
Mouser Electronics and Kingston Technology Expand North American Distribution Deal to Europe
Mouser Electronics, Inc., the industry's leading New Product Introduction (NPI) distributor with the widest selection of semiconductors and electronic components, announces an expansion to the distribution agreement with Kingston Technology Europe Co LLP, a world leader in memory products and technology solutions.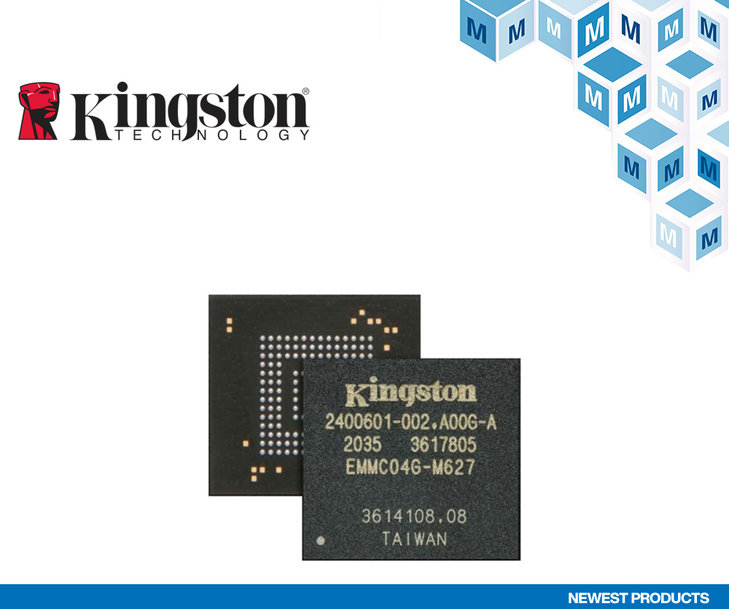 The expanded distribution agreement will enable Mouser to offer Kingston Technology's high-performance memory devices in North America and Europe. From embedded flash to solid-state drives (SSDs), Kingston products can be found in homes, offices, data centres, and industrial environments. Kingston's extensive portfolio of products available from Mouser delivers performance and reliability for design engineering technologies such as
robotics
and industrial
automation
, smart city and
smart home
,
medical
, and
communications
.
"Kingston Technology is proud to further our partnership with Mouser Electronics to market our embedded and industrial product offerings across the EMEA region," said Bernd Dombrowsky, Kingston VP of EMEA Sales and Marketing. "Mouser's EMEA customers can now access much of Kingston Technology's industrial and embedded product portfolio for a wide range of applications and markets."
"We're excited to expand our geographical partnership with Kingston Technology, to now also include Europe," said Marie-Pierre Ducharme, Mouser Electronics Vice President, EMEA Supplier Marketing and Business Development. "This expansion provides design engineers across Europe and North America, the latest offerings from Kingston in stock for developing solutions across a broad range of industries and applications."
Through this agreement, Mouser can now offer many of Kingston Technology's high-performance devices, including Design-In SSDs, embedded DRAM, embedded flash memory, and industrial-grade memory cards. Kingston's
Design-In
product line of SATA and PCIe Gen 4 NVMe SSDs are a drop-in replacement for hard drives and deliver up to 20x greater performance and high reliability, making them ideal for system designers and builders.
Mouser also offers Kingston's
eMMC™
devices, which are non-volatile, embedded memory featuring flash memory and a controller, simplifying application interface design and providing freedom to the host processor from low-level flash memory management. Kingston eMMC memory is a perfect storage solution for mobile and embedded applications.
The company's
embedded DRAM
is also available from Mouser in 1866 Mbps and 2666 Mbps rates, in 128M×16, 256M×16 and 512M×16 configurations applications such as industrial IoT, 5G networking, medical devices, and vending machines.
Additionally, Mouser will offer Kingston's
industrial microSD memory cards
, which feature an operating temperature of -40°C to +85°C, allowing them to withstand the most demanding environmental factors, from extreme desert heat to below-freezing conditions.
To learn more about the Kingston Technology products available from Mouser Electronics, visit
https://eu.mouser.com/manufacturer/kingston/
.
www.mouser.com