electronics-journal.com
Written on Modified on
TELIT CINTERION INTRODUCES NEW WI-FI 6/ BLUETOOTH® LOW ENERGY MODULE
WE310K6 module features the Realtek RTL8852BE chipset, 802.11 a/b/g/n/ac/ax, Bluetooth and Bluetooth Low Energy 5.2 for low power and high performance.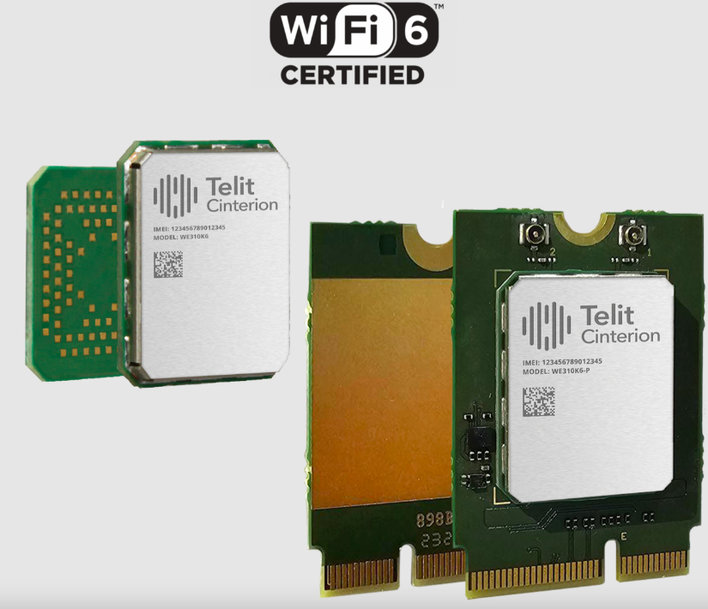 Telit Cinterion announced the WE310K6, a fully integrated, low-power module featuring dual-band, dual-stream Wi-Fi and dual-mode Bluetooth/ Bluetooth Low Energy. The WE310K6 enables device OEMs to add high-speed wireless connectivity quickly and cost-effectively to their products — even when they have limited Bluetooth and Wi-Fi expertise.
The
WE310K6
supports 802.11 a/b/g/n/ac/ax, classic Bluetooth and Bluetooth Low Energy 5.2, giving OEMs the flexibility to design products that can connect to other local devices or to the internet over Wi-Fi. The module is ideal for a wide variety of consumer and business applications, including:
Smart home: home automation, appliances, home security and alarms, smart lighting, and IP cameras and speakers
Health care and medical: remote patient monitoring, medical wearables, and health care and wellness devices
Industrial and commercial: energy management, robotics, and industrial and building automation
Other applications: aftermarket OEM telematics, fleet management, smart cities and parking, printers, asset management, pet and animal trackers, and more
The Realtek RTL8822BE-CG is a highly integrated single-chip that supports 2-stream 802.11ac solutions with Multi-user MIMO (Multiple-Input, Multiple-Output) and Wireless LAN (WLAN) PCI Express network interface controller and integrated Bluetooth 2.1/3.0/4.2 USB interface controller. It combines a WLAN MAC, a 2T2R capable WLAN baseband, and RF in a single chip. The RTL8822BE-CG provides a complete solution for a high-performance integrated wireless and Bluetooth device.

The WE310K6 also has IEEE 802.11 and Bluetooth SIG certifications and complies with Wi-Fi Alliance and Bluetooth SIG-v5.2 requirements. OEMs can get new products to market faster by reducing RF design time and removing the burden of testing and certification. The module's other key features and benefits include:
Two form factor options: LGA package or on top of an M.2 Key E carrier board
Host-activated Wi-Fi and Bluetooth radios
Dual-stream spatial multiplexing up to 1201 Mbps
MU-MIMO technology
Bluetooth Low Energy AUDIO Isochronous Channel (CIS) support
Compatible with Wi-Fi 802.11 e, h, k and i
Advanced security (including WPA3) with integrated crypto hardware
Industrial-grade temperature range (-40 °C to +85 °C) to ensure reliability even in demanding environments
EVT samples of the WE310K6 are currently available, with DVT samples by late October. Mass production begins in December 2023.