electronics-journal.com
Written on Modified on
STMICROELECTRONICS EASES DEVELOPMENT OF SMALLER AND LONGER-LASTING SMART BLUETOOTH DEVICES
The new wireless microcontroller and turnkey module with evaluation board expand choices to simplify and accelerate design.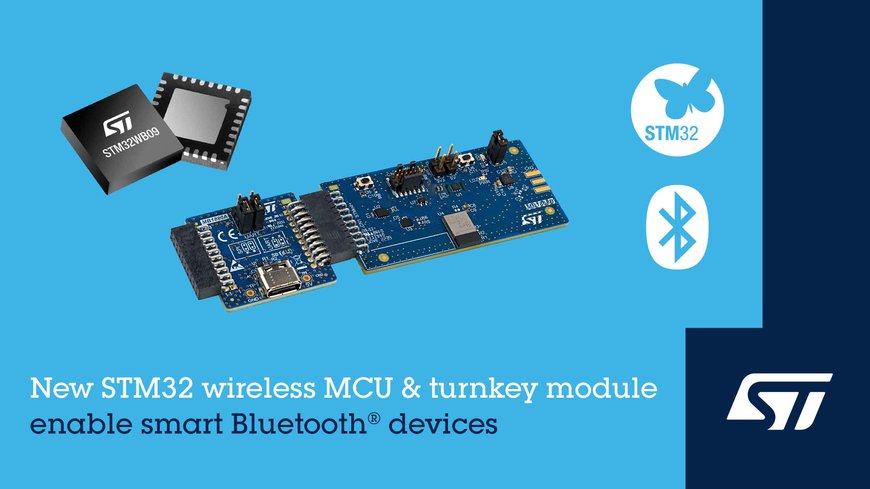 STMicroelectronics has released two new products to enable the next generation of better, smaller, and longer-lasting smart short-range wireless connectivity devices. The latest Bluetooth specification creates exciting opportunities for these to become even smarter, allowing designers to create items such as wireless beacons and devices that can calculate their location indoors with centimetre accuracy. Plus all the other convenient features Bluetooth is known for.
ST's latest Bluetooth solutions cut the time for designers to understand the new specifications and put new product ideas into action. In today's fast-moving markets for wireless products, the initiative lies with teams who can quickly conceive new products that offer novel and useful features.
ST's new
STM32WB09
wireless microcontroller puts all the processing power and Bluetooth radio-frequency technology needed in one chip that designers can put directly on their board ready to connect any other components. It comes with the latest Bluetooth 5.3 software and lets designers take advantage of the vast development ecosystem ST has built to support its STM32 microcontroller family. This includes PC-based design tools, essential software and sample code to accelerate application development.
The STM32WB09 IC, suitable for skilled designers, offers the advantage of a tiny chip-scale package option that is one of the smallest on the market today.
For customers who do not have access to extensive engineering skills and resources, ST offers the
STM32WB1MMC
wireless module. It makes wireless connectivity simple as it contains a certified wireless microcontroller pre-integrated with external components needed for the radio system, as well as the Bluetooth software, and so bypasses many of the engineering challenges encountered when designing with chips. The module helps product developers reduce project risks and build high-performing wireless products with only basic radio-frequency engineering skills. By doing so, customers can focus on developing their own firmware to add value as the wireless functionality will be easy to use.
To make its Bluetooth module even easier to use, ST has now introduced the B-WB1M-WPAN1 evaluation board that is ready to power-up and start development. This board also contains movement, temperature, and barometric-pressure sensors that can be incorporated into the system, and other convenient features like an industry-standard connector for attaching an external antenna.
The STM32WB09 wireless microcontroller, STM32WB1MMC turnkey wireless module, and B-WB1M-WPAN1 module evaluation board are all in production now and ready for new design starts.
www.st.com