electronics-journal.com
Written on Modified on
STMICROELECTRONICS' NEW GENERATION NFC CONTROLLER FOR STPAY-MOBILE DIGITAL-WALLET SERVICES
The ST54L combined NFC controller and secure element IC enables mobile devices like to access security-protected contactless ticketing and payment services through the STPay-Mobile platform.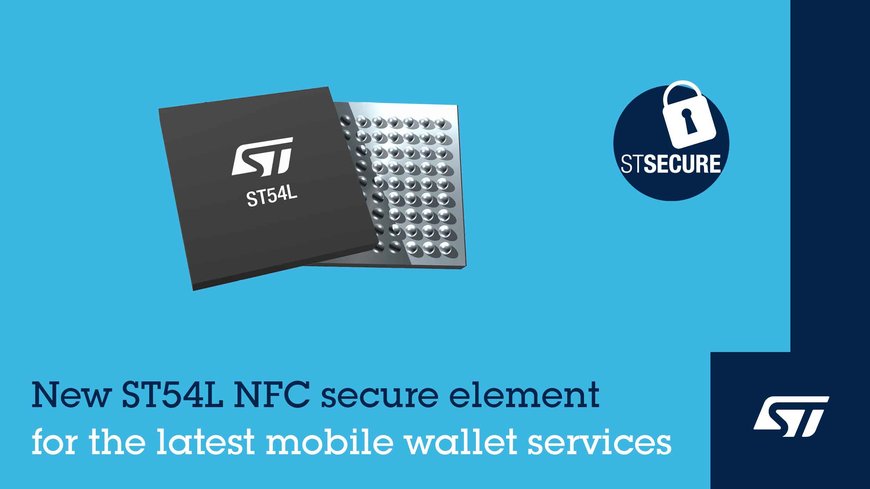 The
ST54L
can host multiple services including NFC mobile payments, mobile transit ticketing, access-control applications such as Digital Car Key, and converged services requiring an embedded SIM (eSIM). The chip comes loaded with the Thales mobile secure operating system running on the embedded secure element, a proven combination cooperatively developed by ST and Thales.
Compared to the previous-generation devices, the new ST54L chip strengthens NFC RF performance and increases non-volatile storage by over 50 percent to 3.3MByte. The larger memory permits loading extra services on the device while providing generous storage for users to download additional eSIM profiles to support Multiple Enabled Profiles (MEP) or secure applications.
The ST54L is in mass production now and is already part of the newly launched Google Pixel 8 phones. The chip has been validated by several major mobile platform makers, guaranteeing seamless integration by smartphone OEMs.
STMicroelectronics manufactures the ST54L chips using proprietary embedded Flash technology at its own wafer-fabrication plant and relies on a full in-house supply chain.
www.st.com