electronics-journal.com
Written on Modified on
New high voltage SMD reed relays on show at Productronica 2023
Visit stand #452 in Hall A1 at Productronica in Munich, Germany from November 14–17, 2023.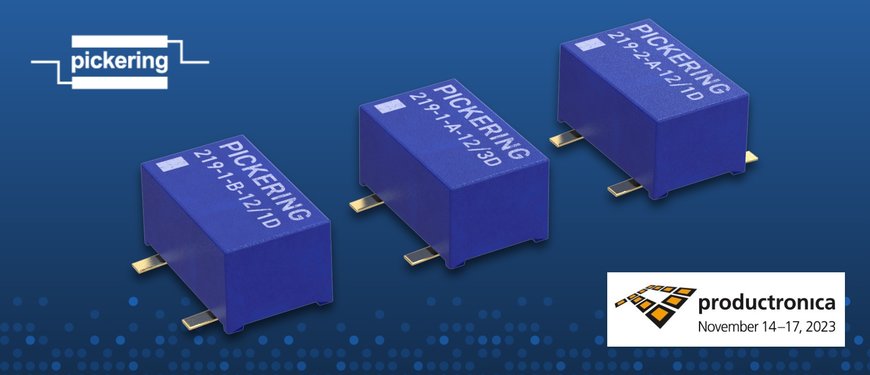 Pickering Electronics, the leading manufacturer of high performance reed relays, will showcase its newly-introduced high voltage surface mount reed relay, Series 219, on stand #452 in Hall A1 at Productronica, taking place from November 14 to 17, at Messe München in Munich, Germany.
The world's leading trade fair for the electronics manufacturing industry, Productronica, co-located with SEMICON Europa, showcases the entire value chain spectrum of technologies and solutions for electronics development and production. From semiconductor manufacturing, microelectronics and battery production to cleanroom technology and logistics, every two years, the world of electronics production comes together in Munich.
"As Pickering continuously improves its reed relay offering for instrumentation and ATE, we expect to see interest at Productronica from diverse sectors and applications, including mixed-signal semiconductor test, high-end cable and backplane test, signal switching in medical electronics, EV charging, solar cell monitoring, and high voltage instrumentation," commented Robert King, Product Development Manager at Pickering Electronics.
Suitable for mixed signal semiconductor testers, medical equipment testing, EV (electric vehicle) charge point testing, and monitoring solar cell photovoltaic efficiency, Pickering's new Series 219 high voltage SMD (surface mount device) reed relay can effortlessly switch up to 1kV – and is the only surface mount high voltage relay available in the market in 2 Form A and 1 Form B packages. Pickering offers all contact configurations with three coil voltages, 3V, 5V, or 12V, and switch stand-off is up to 3kV in the 1 form A package, up to 2kV in the 1 form B package, and up to 1.5kV in the 2 form A package.
Other reed relay technology on show at Productronica includes Series 104HT, which can function in environments with temperatures as high as 125°C (with special order variants capable of reaching up to 150°C). Belonging to Pickering's family of miniature high-voltage reed relays, it comes in the SIL package and is spaced at a 6.35mm (0.25in) pitch, providing a stand-off voltage capacity of up to 4kV. Series 104 reed relays are available in 1 Form A, 2 Form A, and 1 Form B configurations. Coil options comprise of 5V, 12V, or 24V, with optional internal diode protection (higher voltage ratings are available on special order). Mercury wetted devices are also available for applications where bounce free switching is required, rated at 1500V DC minimum stand-off, 500V DC switching at up to 50W.
The company will also highlight other high voltage reed relays, including its 67ES/68ES SIL/SIP reed relay families. Series 67 and 68 relays feature former-less coils, which means that they can be housed in a smaller package than is usual for this type of device, measuring just 58.4 x 12.6 x 14.5mm. Series 67 relays feature PCB connections to switch and coil, and provide the highest power switch capability – up to 200W – in the Pickering portfolio. Series 68 devices have PCB connections to the coil and flying leads to the switch, which isolates high voltage from the PCB.
Electrostatic screening protection is also available for the Series 104, 67, and 68 relays. This screening protects against noise which can otherwise occur between the coil drive and high voltage circuits. This new screening is in addition to Pickering's internal mu-metal screen, which eliminates problems caused by magnetic interaction when devices are closely stacked.
Also on show at Productronica from Pickering Group will be its modular signal switching and simulation technologies for electronic test and verification from Pickering Interfaces, as well as its cables and connectors from Pickering Connect.
www.pickeringrelay.com