electronics-journal.com
Written on Modified on
Cliff Electronics offers wide range of Control Knob Options
CLIFF Electronics, leaders in the design, development and manufacture of components and connectors for audio, broadcast, instrumentation, medical, lighting and vending applications offer a wide range of control knobs to suit those and many more applications.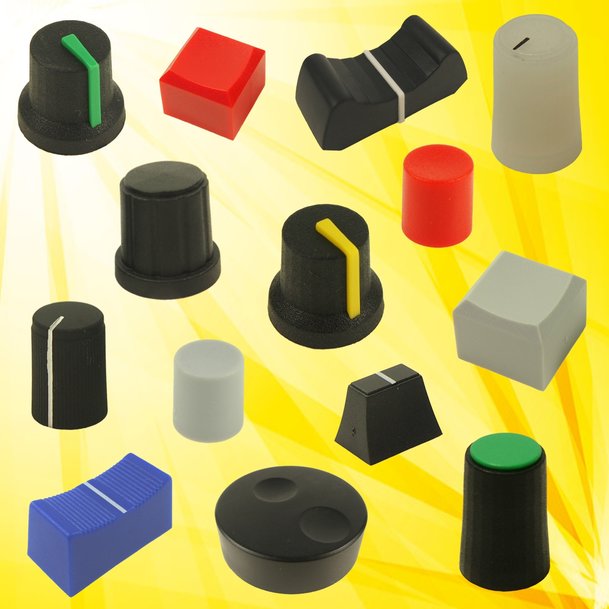 Rotary Control Knobs suitable for use with rotary switches, potentiometers or encoders are moulded in black nylon, ABS or PP, with or without skirts and some models can be supplied in white or grey colours. Other custom-made colours can be produced, subject to order quantity. Some models can accept optional diamond spun or coloured caps and marker dots are standard on some models. The standard dot or line position is opposite the set screw or "D" flat, and versions are available with push on or screw fixing.

The K Series offers a wide of options, from the retro-look K4 "chicken head" pointer knobs, to a range of aluminium clad plastic models with a bright aluminium diamond turned finish protected from tarnishing and corrosion. The K85 push fitting round knob has a transparent version for use on illuminated rotary encoders.

Products of note include:

K21 - available in various shaft fittings and cap colours with optional marker line or dot and a removeable coloured cap. The K21 knob is widely used on mixer desks for audio/broadcast applications.
K87 series offers a rubberised soft-touch rotary control knob available with or without a moulded colour top and marker line. A wide range of colours means it can be used on equipment where colour coding is required.
K88 range of cost effective, space saving skirt-less knobs are extremely versatile for many applications, offering multiple mounting options for different shaft types. Separate caps enable multiple colour and marker line options.
CS Series Slider and Push Button Control Knobs for use with motorised faders and controls including electrically conductive versions are now widely featured on audio and lighting desks. Rectangular, round and square versions are available with the option of parallel or right-angle marker lines on rectangular designs.

Many of Cliff's control knobs are manufactured in the UK and may be customised to meet specific requirements without costly NRE and large minimum order requirements.

Cliff Electronics manufactures a wide range of FeedThrough, audio and power connectors, terminal posts, test leads and accessories. Cliff can also provide a wide range of leads including audio, instrument and power. Cliff products are available from major international distributors.

www.cliffuk.com