electronics-journal.com
Written on Modified on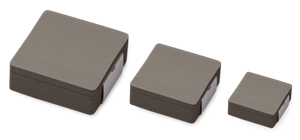 KEMET Corporation, a leading global supplier of electronic components, launched a new range of SMD metal composite power inductors. Devices in the new METCOM series are ideal for developing more efficient DC to DC switching power supplies as well as other power-related applications including EMI filtering.
The metal composite core offers high current saturation characteristics that allow the inductors to maintain function with the large ripple currents typically found in modern power applications. High permeability enables low values of DC resistance (DCR) that result in significantly reduced self-heating during high current operation, thereby increasing system efficiency and reducing the need for thermal design considerations.
The METCOM inductors feature a shielded construction that contains the magnetic flux within the inductor body, increasing the efficiency of operation. This also improves EMI performance and eliminates interference with surrounding circuitry, significantly simplifying the task of gaining power supply approvals.
The new inductors are designed specifically for use in DC-DC converters that are utilized in a variety of commercial and consumer applications including notebook computers, tablets, servers and HDTVs. Qualification of the devices to AEC-Q200 guidelines for automotive applications is in process.
Comprising a total of 102 devices covering an inductance range from 0.10µH to 47.00µH, the METCOM series offers DCR values as low as 1.5mΩ. The inductors can support currents up to 35.4 A and operating temperatures between -55°C and +155°C. With footprints as small as 5.3mm x 5.00mm and profiles as low as 2.0mm, the METCOM series is ideal for densely-packed modern power applications.
Commenting on the launch of the new devices, Dr. Philip Lessner, KEMET Senior Vice President and Chief Technology Officer, said, "Increasing power supply density and efficiency is a key challenge for many designers. When it comes to size, reliability and performance the METCOM inductors offer very low losses in a small form factor, helping designers to develop modern, high-performance power solutions that meet increasingly stringent application requirements."
For more information, please visit www.kemet.com/metcom.