electronics-journal.com
Written on Modified on
Nowi Energy about Understanding the implementation of Energy Harvesting in TV Remote Controls
10 Questions to Tom Dubil, VP of Business Development at Anycon.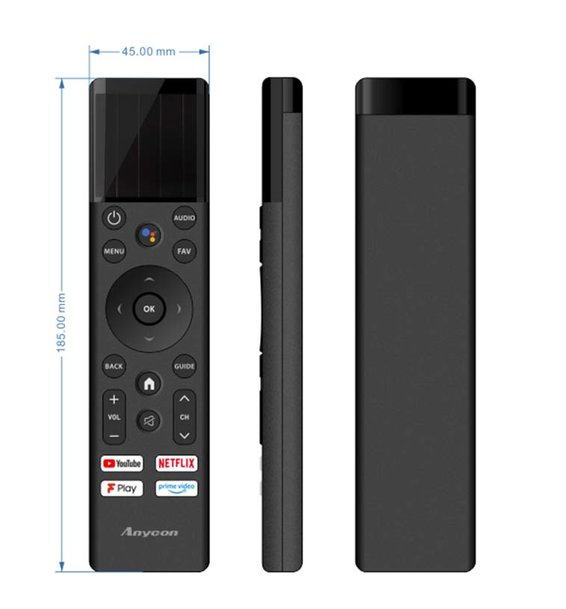 About Anycon
1. Tell us more about Anycon and your corporate vision / strategy.
Anycon, since inception in 2009, has been providing excellent user experience on connected devices in home ecosystem. Our team of engineers have extensive knowledge in interaction concepts and product solution in Subscription broadcast and pay TV, consumer electronics, home automation and OTT segments. In CE Device Industry, Anycon is a leading player in terms of usability design and technology for input devices like remote controls and keyboards. With its portfolio of patents in the smart home ecosystem, Anycon supports its esteemed partners with long term experience, to develop solutions, that integrate technology in an ambient way.
In 2012, Anycon set up its maiden manufacturing facility in Fenggang town of Dongguan on the outskirts of Shenzhen City. Anycon fully integrated Manufacturing center complies with ISO 9001 and 14001. Young and Dynamic team of engineers and workers are experienced in rolling out the best in class products with highest standard of quality and precision. With 1000s of projects to its credit Anycon has been making an on-time deliveries of millions of units to it customer month after months for over 10 years. In the pursuit to stay closer to its customers, Anycon is planning to expand its manufacturing footprint in various parts of the world so that it could serve its customer efficiently.
2.
​
What differentiates Anycon on the TV RCU market?
Smart Entertainment Control is Integral to the Smart Home Experience. Consumers are demanding new and better ways to connect; control and interact with information, entertainment, and services. Anycon has a very broad technology portfolio which features voice, touch, sensing and motion control as well as advanced smart connectivity solutions featuring ZigBee
®
RF4CE, Bluetooth
®
Smart, and Wi-Fi Direct
®
. We are bringing new features and capabilities like Display Assisted Setup, OTA Firmware/software, universal database upgradability and smart authentication to the best global brands.
3. ​Who are your typical customers and what markets do you target?
While the TV market is one of our focuses, we support Cable/Satellite/Streaming markets as they are very similar to the requirements of a TV remote control. We also create solutions for our customers in the home automation, security, and medical fields.
​4. What special features are your customers looking for in TV remotes?
Reliable Product portfolio with finest integration competencies. Anycon provides tailor-made product solutions to its customer. In every vertical we have off the shelf products, but we work with our customers to have deeper understanding of end user interaction needs, so that we differentiate and add value to an essential product through strong industrial design knowledge.
5. You mentioned sustainability as a core focus for Anycon. What measures are you implementing to develop Anycon's sustainability vision?
Being a technology company, Anycon is always looking for solutions that are earth friendly. Whether we are working on our internal processes for manufacturing products or working with our customers to lessen their products impact on our world, we look for things we can do to make a difference. The sad thing is that in the end, our customers have the final say on the product architecture and often it boils down to cost.
Energy Harvesting in TV Remote Controls
6. Why Energy Harvesting?
Energy Harvesting in remote controls helps us solve the cost problem. By avoiding battery replacement, this green solution more than pays for itself whether it's in the consumers home or at a business. In the hospitality industry, battery changing creates waste and creates labour costs when companies are paying to change the batteries. Additionally having products that do not run out of power improve the reliability and safety of the solution.
​7. What made you choose Nowi as your EH partner?
Nowi has been a great partner to work with. We started with some engineering samples and breadboards. We studied the performance of these samples and are pleased with the capabilities. They have a great technical team that is near our technical team, so it's been easy to collaborate.

8. ​​How is Nowi's NH2 PMIC a fit?
We needed a harvesting solution that was small and low powered that would also give us the ability to get enough energy to support our user profiles. Remote controls spend most of their time on a table but when you need to use them, they must work. By working with Nowi to get the right balance between energy creation and energy consumption, we believe we can avoid even having a battery door on a remote control!
9. ​Describe the solar-powered TV RCU. How would it work? What would it look like?
We want to have the solar panel on the top surface of the remote. Users are used to laying the remote on their table with this orientation and we do not want to try to change this. The remote would charge in ambient light. It would consume power when communicating to the TV via IR and RF. We have a few renderings and are working with some customers to promote these solutions. Our customers will have the final say on the industrial designs that get chosen.
10. ​​Last but not least - When can we expect Anycon's first solar-powered eco-friendly TV RCU?
I cannot share our customers road maps and their timing, but this year will be a year to prove these solutions. Engineering tests and limited deployment will ensure our customers that the technology is ready to be deployed. I expect that lead customers may role out these solutions once the tests are completed and they have fully evaluated it. We have functional samples already and are testing and profiling the performance.
www.nowi-energy.com