electronics-journal.com
Written on Modified on
19" Rack Mounting Panels for FeedThrough Connectors now available in two formats from Cliff Electronics
1U panels available blank or preassembled with 16- or 20-hole versions to suit XLR or DualSLIMS FT Connectors.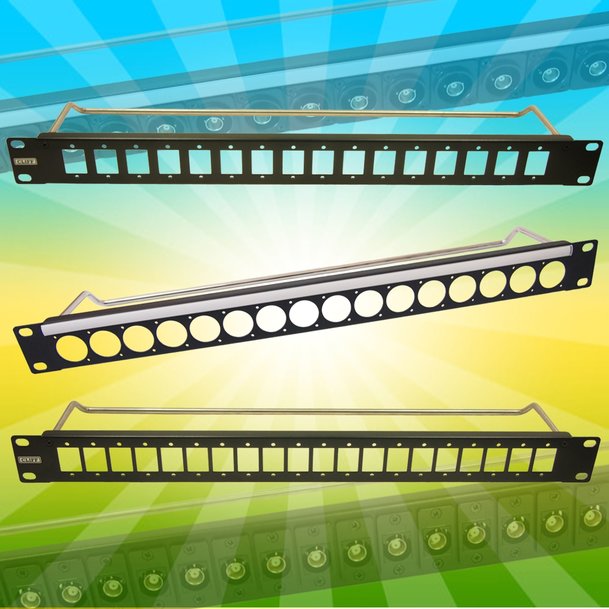 Cliff Electronics 19" panel mounting FeedThrough connect mounting panels.

Cliff Electronics, leaders in the design, development and manufacture of connectors and test equipment can now offer panel builders and systems integrators three versions of their 1U high, 19" rack panels to facilitate assembly of their FeedThrough (FT) connector range into patch panels or control systems.
The three panel versions available provide assembly of either 16 standard XLR format (24mm diameter panel cut out) connectors and either 16 or 20 of the narrower DualSLIMS (17.15 × 22.86 mm panel cut out) versions. This allows system designers to use the best-fit connectors for their systems and markets. The XLR version is fitted with a connector labelling strip located on the front and all versions have a cable strain-relief bar fitted at the rear.
The Cliff FT Series of true feed through connectors are perfect for developing custom I/O configurations for wall-plates, rack panels, etc. They can be front or rear mounted and use standard cables for interconnecting, no soldering or push terminations are required.
The Cliff feedthrough connector range allows designers to integrate audio, video, digital, optical, networking and data feeds into professional equipment for broadcast, lighting, audio, and industrial applications. Versions of note include RJ45, HDMI, BNC and USB3.0 (single and dual). The range provides analogue, digital and optical feedthrough connectivity in formats including Firewire, HDMI A-to-A and 50Ω BNC versions, USB2 A-to-B and B-to-A changer sockets and USB3 to USB3 in various configurations.
Also available are popular data and ethernet connectors including LC and SC fibre, (Duplex and Simplex), UTP and FTP RJ45s in both Cat6 and Cat5e, (shielded and unshielded), TOSLINK and RCA phono
The 1U assemblies can be factory loaded with the specific connectors required by the system designer including BNC, single or dual USB or RJ45 with internal cable harnesses available as a special order. These pre-assembled panels simplify system assembly, reduce manufacturing time, component count and cost.
John Hall, Managing Director of Cliff Electronics, comments; "Our rack mounting panels simplify system assembly for our customers while our factory assembly service reduces their parts count and speeds up assembly times".
Cliff Electronics are market leaders in the design, development and manufacture of connectors, leads, test lead sets and accessories for a wide range of markets and supply major international OEMs. As a UK manufacturer Cliff can respond quickly to customer's needs for both standard products and custom designs.
Cliff manufactures audio, optical and power connectors and accessories, general industrial connectors, foot pedals, lighting connectors, terminal posts and connection blocks, motors, fans and assembly aids. Cliff can also provide a wide range of leads including test and instrumentation, audio, instrument and power.
www.cliffuk.com