electronics-journal.com
Written on Modified on
New Murata DC-DC Converters Optimized for GaN Gate Drive Applications
Leveraging proprietary PCB electrical and mechanical design topologies, Murata has introduced a new series of compact DC-DC converters that are aligned with the increasing prevalence of wide bandgap technology. The new MGN1 series of 1W output DC-DC converters are designed to deliver the voltages needed by the gate drivers of GaN devices.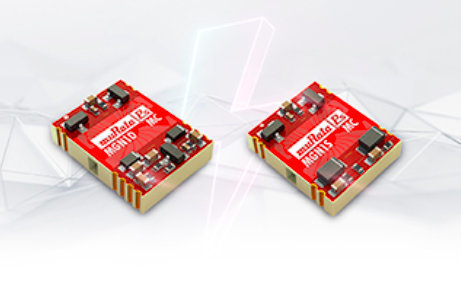 These units provide low-profile, small footprint, surface-mount solutions that can be easily integrated into space-limited systems. They also have the advantage of being lightweight, which opens up even greater deployment opportunities. The output voltages offered are +8V, +12V and +6/-3V.
One of the key attributes of MGN1 series DC-DC converters is their ultra-low isolation capacitance of 2.5pF (typical). Through this, the coupling of transients across the isolation barrier is minimized, thereby preventing signal distortion. In addition, it means that system EMI problems can be mitigated. The >200kV/µs common mode transient immunity (CMTI) of these units makes them well suited to the elevated switching speeds of GaN-based systems, further ensuring gate driver signal integrity. Thanks to their partial discharge performance, reliable operation is maintained in high voltage conditions.
The DC-DC converters in Murata's MGN1 series support a continuous isolation barrier withstand voltage of 1.1kV, with UL62368 conformance pending for 650VDC basic insulation and 240VAC reinforced insulation. These converters have 6.5mm creepage and clearance figures. A -40°C to +105°C working temperature range allows them to be installed into extremely challenging environments. In addition, reverse polarity and short circuit protection mechanisms are both incorporated.
There are a wide range of GaN-based applications that the new DC-DC converters can be used for. These include EV fast charging infrastructure, battery storage converters, smart grid implementations, solar inverters, solid-state switching breakers, ICT and data centre, wind turbines and motor drives.
www.murata.com