electronics-journal.com
Written on Modified on
VECTOR: NEW MULTI-GIG ETHERNET ADAPTER FOR PORTABLE USE
Vector presents its compact multi-gig USB-to-Ethernet adapter VN5601. The adapter is not only high performing, its compact dimensions make it ideally suited for portable use. It also offers easy connection to Vector Hardware.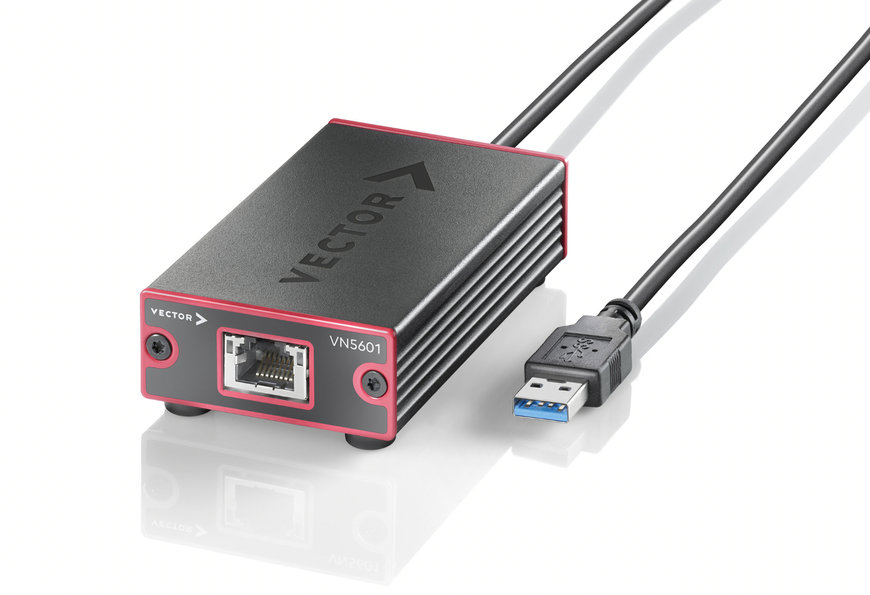 The new VN5601 standard Ethernet adapter for portable use. Image rights: Vector Informatik GmbH

This new adapter can be used for standard Ethernet IEEE 2.5GBASE-T as well as IEEE 1000BASE-T.
The new VN5601 provides the user with a small, compact, portable adapter for simulation and test tasks as well as network analysis in an Ethernet environment.
The VN5601 adapter connects devices with standard Ethernet interface to the PC via USB 3.0. without affecting the Windows networking infrastructure. It also facilitates the connection of other Vector products with Ethernet interface, such as VN5240, VX1135, VX1161 and CSM modules. These can thus be used ideally without repercussions on the Windows network infrastructure. The connection to the computer as well as the power supply is via USB 3.0.
Devices connected to the VN5601 are synchronized via IEEE 1588 (PTP), while precise hardware time stamps provide ideal time synchronization.
More information at:
www.vector.com/vn5611-vn5612-vn5601
www.vector.com