electronics-journal.com
Written on Modified on
STMICROELECTRONICS DEVELOPS ALL-IN-ONE MOTION AND BONE-CONDUCTION SENSOR
The unique highly integrated sensor delivers longer listening experience and superior hearing in TWS headphones and AR/VR/MR headsets.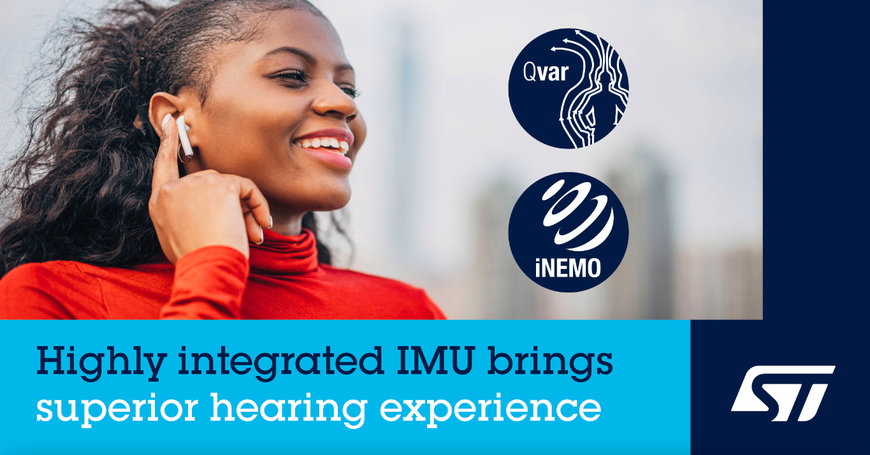 STMicroelectronics'
LSM6DSV16BX
is a unique highly integrated sensor that delivers tremendous space savings inside hearable devices including sports and general-purpose earbuds. It combines a 6-axis inertial measurement unit (IMU) for head tracking and activity detection with an audio accelerometer for detecting voice through bone conduction in a frequency range that exceeds 1KHz.
In addition, the LSM6DSV16BX contains ST's Qvar™ charge-variation detection technology for user-interface controls such as touching and swiping. It is ideal for applications such as true wireless stereo (TWS) headphones and augmented-, virtual-, and mixed-reality (AR/VR/MR) headsets.
While delivering unprecedented integration, the LSM6DSV16BX brings superior features to the ear. The sensor embeds ST's Sensor Fusion Low Power (SFLP) technology, specifically designed for head tracking and 3D sound, and the in-the-edge processing resources featured in ST's third-generation MEMS sensors.
The LSM6DSV16BX comes with many software examples, available on ST MEMS GitHub FSM and MLC model zoo. These include pick-up gesture detection to automatically turn on some devices' services, in-ear and out-of-ear detection in TWS headsets, head gestures for 3D sound in headphones, and many more. To save developer time, without starting from scratch, pre-integrated application examples are available in the
X-CUBE-MEMS1
package.
www.st.com