electronics-journal.com
Written on Modified on
TDK TO SHOWCASE LATEST INNOVATIONS AT SENSOR+TEST AND PCIM
Sensor+Test and PCIM take place from May 9 to 11 in parallel in the Exhibition Center Nuremberg, Germany. TDK is represented at Sensor+Test at booth 204 in hall 1 and at PCIM at booth 348 in hall 9.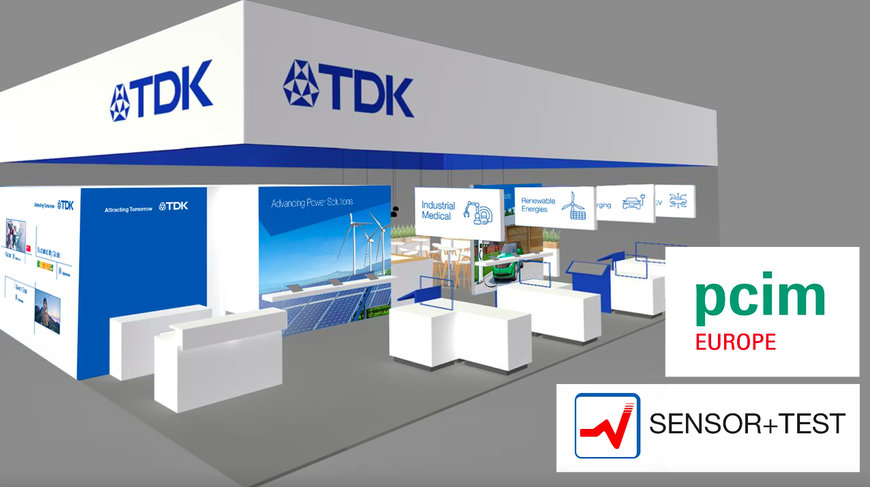 TDK Corporation will showcase its sensor innovations and latest passive components for automotive, industrial, and medical applications, power electronics, intelligent motion, renewable energy and energy management at this year's Sensor+Test and PCIM, taking place in parallel from May 9 to 11 in the Exhibition Center Nuremberg, Germany.

At Sensor+Test, TDK will present magnetic sensors and embedded motor control solutions as well as temperature and pressure sensors, piezoelectric (PVDF) sensors and actuators, ultrasonic sensor modules, acoustic data link solutions, and accelerometers in hall1 at booth 204. A few exhibition halls away, at PCIM, TDK will present passive components highlights, in hall 9 at booth 348. These include the most diverse capacitor technologies for DC link applications, inductors, protection devices and reference designs.

Product highlights at Sensor+Test, Booth 204, Hall 1:
Magnetic sensors: HAL 302x, a new, stray-field robust ASIL C ready Hall-effect position sensor family for high-speed e-motor applications. This new sensor solution suits for use in electric power steering systems, e-motors (e-axis), electric brake boosters and electromechanical brakes (EMB).
Embedded motor control solutions: HVC 5x, a new family of programmable system-on-chip (SOC) motor controllers for driving small stepper, brushed (BDC) and brushless (BLDC) motors in automotive and industrial applications
Pressure sensors: Pressure-temperature sensors for thermal management, and pressure sensors for fuel tank leakage detection, and industrial applications
Temperature sensors: Industrial surface temperature sensing and automotive temperature sensors including an e-motor busbar sensor, an e-motor small case series, clip-on sensors for heat pumps, and a sensor for high-voltage
Acoustic Data Link (ADL): This technology uses acoustic material waves instead of electromagnetic waves, enabling supply power and digital data transmission through closed metal surfaces without through-hole connection
Ultrasonic sensor modules: Measuring range 15 ㎝ to 200 ㎝, transducer including the intelligent integrated controller in one module, dust and splash water protected due to closed membrane
Accelerometers: AXO®300 platform of miniature, closed-loop, high-performance digital MEMS accelerometers
Product highlights at PCIM, Hall 9, Booth 348:
μPOL™: Smallest available point of load DC-DC converter for applications such as data centres, industrial, machine learning, artificial intelligence (AI), 5G supplies and IoT networking. Best power density for high-end applications like FPGA/SoCs, ASICs, VR14 applications
ModCap™: Now available in a version with bio-film. Especially suitable for fast-switching SiC-based converters
Aluminium caps: New multipin designs with reverse polarity protection, which are characterized by their compact design, high ripple current capability and long service life for DC link applications
HVC (High Voltage Contactor): New types with higher voltage and current. Suitable for E-mobility and switching battery systems in photovoltaic plants
Protection Devices: NTC and PTC inrush current limiters, and varistors now also available in SMD design
EMC Components: Common mode and differential mode chokes for different current values, now also available in SMD design
Reference designs: Frequency converters, charger modules for xEV, DC-DC-converters.