electronics-journal.com
Written on Modified on
ITTIA's Modern Edge Database Supports NXP S32G Vehicle Network Processors
Offers High-Performance Data Management for Real-Time Decisions.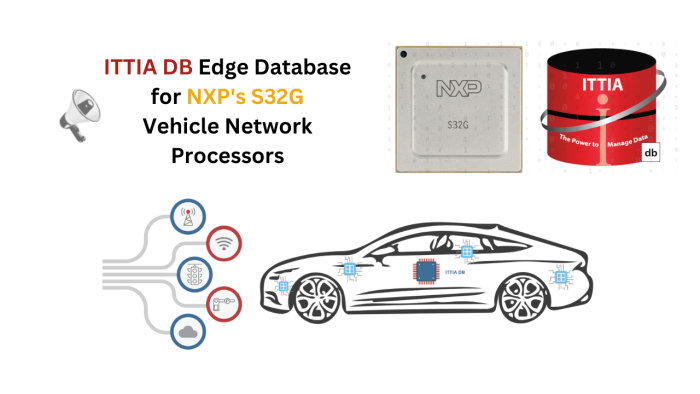 ITTIA a global leading provider of secure high-performance edge data management software for embedded systems and Internet of Things (IoT) devices, announced support for NXP
®
Semiconductors' S32G vehicle network processors.
The recent evolution of embedded systems and IoT has introduced connected devices that ingest an extraordinarily large amount of data, process it locally, and convert it into useful information. This evolution directly relates to the automotive industry's Software-Defined Vehicle (SDV) design pattern. ITTIA DB software offers great value for SDVs that use NXP S32G processors.
Applications built for the automotive industry demand robust real-time data processing, data aggregation, and filtering. ITTIA DB is designed for embeddable applications to understand, smooth, and store large volumes of raw data. Device applications embedded with ITTIA DB are able to process massive volumes of unrefined data into valuable information for analysis and storage. ITTIA DB offers self-management and automated administration capabilities with the flexibility to run on both Arm
®
Cortex
®
-M7 and Arm Cortex-A53 processor cores in an S32G-based Electronic Control Unit (ECU).
S32G vehicle network processors combine ASIL D safety, hardware security, high-performance real-time and application processing, and network acceleration. S32G processors support the needs of new vehicle architectures: service-oriented gateways, vehicle computers, domain controllers, zonal processors, safety processors, and more.
ITTIA DB is built for time-series data management metrics, events, and measurements that are time-stamped on strong computing edge platforms such as S32G processors. With high-performance ingestion and querying abilities, S32G can manage data for responsive reactions and real-time decisions. ITTIA DB also offers manufacturers the ability to identify, manage and mitigate security risks at the database level. ITTIA practices a secure development lifecycle (ITTIA SDL) that is conformant to the principles of IEC/ISO 62443.
Together, ITTIA DB and the S32G processors pave the path for intelligent devices to make decisions dynamically with edge data computing in the automotive and transportation markets.
"High-performance processing and management of time-series data by advanced systems, such as S32G processors, can help advance autonomous computing. By offering these capabilities and in-depth architectures for embedded IoT systems, ITTIA DB offers an attractive solution for these systems," said Sasan Montaseri, ITTIA president. "We are committed to our partnership with NXP's automotive processing team and will work with them to offer data enrichment for applications running on S32G processors."
"As the automotive industry is digitally transformed with software-defined vehicles, new use cases will broadly leverage sensor and vehicle data," said Brian Carlson, Global Marketing Director for Vehicle Control and Networking Solutions at NXP. "The modern and flexible ITTIA DB support for our S32G processors will allow the many applications that run on them to efficiently access vehicle data, query for specific events, and store their data securely to meet diverse data management needs and create new experiences and opportunities."
More information about
ITTIA DB for the automotive
market is available.
www.ittia.com