electronics-journal.com
Written on Modified on
MICRON PRESENTS MONOLITHIC 32GB DRAM
Micron's advanced 1β technology-based DRAM with speeds capable of up to 8000 MT/s provides improved solutions for memory-intensive applications like generative AI.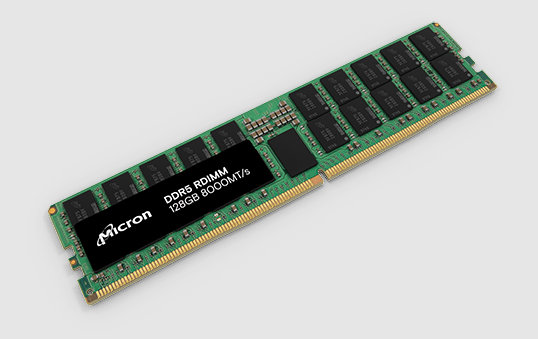 Micron Technology, Inc demonstrated its industry leadership by announcing its 32Gb monolithic die-based 128GB DDR5 RDIMM memory featuring best-in-class performance of up to 8000 MT/s to support data centre workloads today and into the future. These high-capacity, high-speed memory modules are engineered to meet the performance and data-handling needs of a wide range of mission-critical applications in data centre and cloud environments, including artificial intelligence (AI), in-memory databases (IMDBs) and efficient processing for multithreaded, multicore count general compute workloads. Powered by Micron's industry-leading 1β (1-beta) technology, the 32Gb DDR5 DRAM die-based 128GB DDR5 RDIMM memory delivers the following enhancements over competitive 3DS through-silicon via (TSV) products:
more than 45% improved bit density
up to 24% improved energy efficiency
up to 16% lower latency
up to a 28% improvement in AI training performance
Micron's 32Gb DDR5 memory solution uses innovative die architecture choices for leading array efficiency and the densest monolithic DRAM die. Voltage domain and refresh management features help optimize the power delivery network providing much-needed energy efficiency improvements. Additionally, the die-dimension aspect ratio was optimized to advance the manufacturing efficiency of the 32Gb high-capacity DRAM die.
By leveraging AI-powered smart manufacturing methods to enable these world-class innovations, Micron's 1β process technology node has achieved yield maturity in the fastest time in the company's history. Micron's 128GB RDIMMs will be shipping in platforms capable of 4800 MT/s, 5600 MT/s, and 6400 MT/s in 2024 and designed into future platforms capable of up to 8000MT/s.
Micron 32Gb-DRAM die enables future expansion of the memory portfolio with enhanced bandwidth and energy-efficient MCRDIMM and JEDEC standard MRDIMM products in 128GB, 256GB and higher capacity solutions. With industry-leading process and design technology innovations, Micron offers a wide array of memory options across RDIMMs, MCRDIMMs, MRDIMMs, CXL and LP form factors to allow customers to integrate optimized solutions for AI and high-performance computing (HPC) applications that suit their needs for bandwidth, capacity and power optimization. For more information, visit Micron's
DDR5 webpage
.