electronics-journal.com
Written on Modified on
New high voltage smd reed relays from Pickering can switch up to 1kV
Pickering Electronics, has announced its first high voltage surface mount reed relays, known as the Series 219, at Productronica.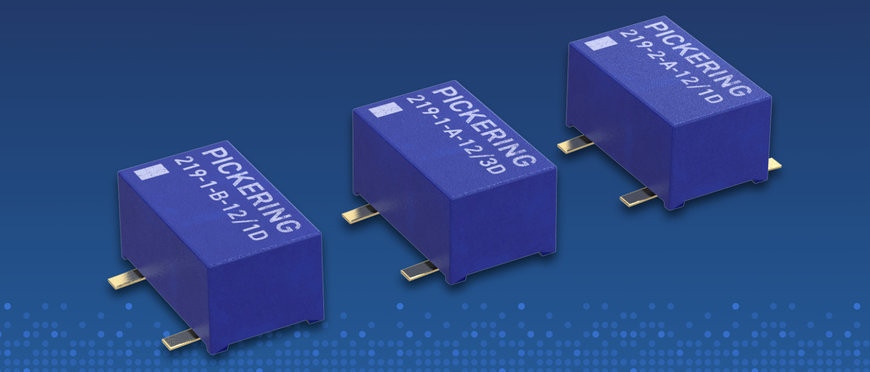 Available in multiple package types (of the same size, but with differing pin positions), these reed relays can switch up to 1000V in 1 Form A (SPST), 2 Form A (DPST), and 1 Form B (SPNC) contact configurations; switch stand-off is up to 3000V, while switch-coil isolation is up to 5000V stand-off.
Series 219 surface mount reed relays are an excellent choice for a range of high voltage applications, including mixed signal semiconductor testers, medical equipment testing, EV (electric vehicle) charge point testing, and monitoring solar cell photovoltaic efficiency.
Within the
Series 219 range
, all contact configurations are offered with three coil voltages, 3V, 5V, or 12V. Switch stand-off is up to 1.5kV in the 2 Form A package, up to 2kV in 1 Form B, and up to 3kV in the 1 Form A package, while switch-coil isolation is up to 5kV stand-off in 1 Form A and 1 Form B types. Switching is up to 0.7A and 10W, while the operating temperature range spans from -40°C to +105°C.
All part numbers are offered with a diode option. Suppression diodes are placed within the relay to protect the device driving the relay coil against back emf which is generated when the current flow to the coil is interrupted. The drop in current causes a voltage to rise which can damage other components on a PCB board such as the coil drive.
And as customers might expect, Pickering's Series 219 Reed Relay is available with several standard build options to tailor it to your specific application. If your requirements can't be met by either a standard relay or any of the standard build options, the company also offer a customized reed relay service to suit the users specific application.
In common with other relays produced by Pickering, the new 219 Series high voltage reed relays use the very best instrument-grade switches with appropriate switch blade coatings for the currents and voltages demanded by the application. Another innovation – still not employed by some competition – is SoftCenter™ technology that minimizes internal stresses on the reed switch, resulting in an extended life and contact resistance stability. The use of magnetic Mu-Metal shielding and electrostatic screening prevents faulty operation.
www.pickeringrelay.com