electronics-journal.com
Written on Modified on
Mouser Electronics Supports IoT Development with Webinar On Compact RF Antenna Solutions
Mouser Electronics, Inc., the New Product Introduction (NPI) leader™ empowering innovation, will be hosting a free webinar to help hardware engineers to develop antenna solutions for increasingly compact IoT and smart devices.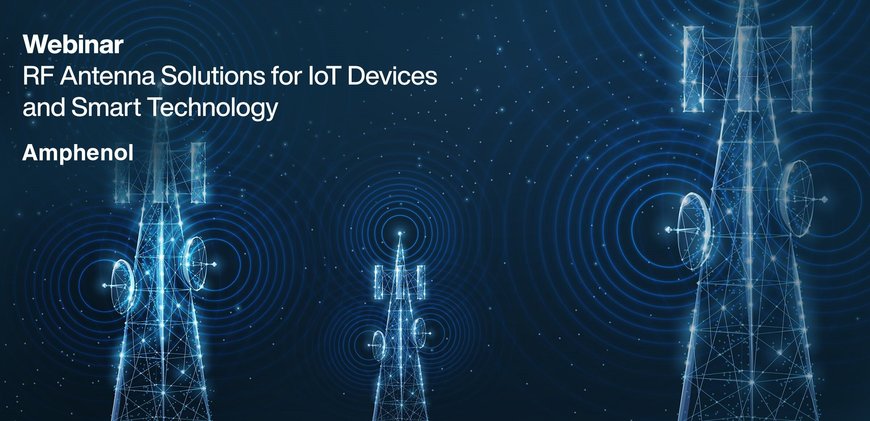 Mouser has partnered with Amphenol RF for the "RF Antenna Solutions For IoT Devices And Smart Technology" webinar, which will take place on 5 December at 3pm CET.

"IoT devices have become prolific with the rise of smart technology, but the evolving design restrictions posed by compact devices can pose a significant challenge for designers," says Mark Patrick, Director Technical Content, EMEA at Mouser Electronics. "At Mouser, we continue to be at the forefront of supporting IoT innovators by providing them with practical tips to optimise their designs."

Participants in this webinar will learn about the variety of RF antenna solutions available for emerging IoT applications, and how both internal and external antennas can be incorporated into devices with limited space and other design restrictions.

Amphenol RF has a wide range of antenna solutions available for IoT applications, including:

Internal embedded chip antennas. These compact antennas are designed for use inside connected devices.
External antennas. These MHV cable assemblies support up to 5000 VDC voltage and provide excellent electrical performance up to 500 MHz
FPC & PCB antennas with secure adhesive-mount backing for easy installation.
Near field communication (NFC) antennas. These internal antennas are designed to support NFC-Forum wireless protocols.
These antennas can be used to solve specific design challenges, such as mounting, size restrictions, frequency range and data transmission capabilities. During the webinar, Mike Comer, Director of Product Marketing & Business Development at Amphenol RF, will advise participants on how to select the best option for their projects. He will also explore the various protocols that can be used to optimise the specific usage of individual antenna types.

To register for the webinar 

www.mouser.com