electronics-journal.com
Written on Modified on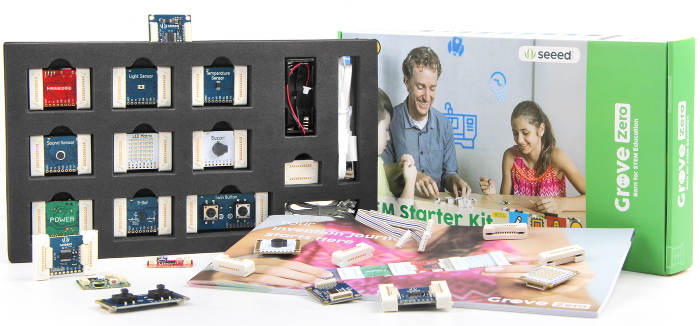 Intended to help teachers and students to learn about programming, electronics, design, and logic, Grove Zero Kit is a collection of plug-and-play modules, each including a pre-configured microcontroller, from Seed Studio.
Seeed Studio Grove Zero STEM starter kit 700
The modules are colour-coded according to function, such as sensor input or LED output, and snap together via magnetic connectors that allow students to connect the modules without worrying about order or direction," said Mouser, which is stocking the kit. "The modules also feature 2.54mm break-out pads for advanced users or students ready to learn how to solder and build simple circuits."
There is a main processor board, then each input or output module also has a local processor.
There are three ways to connect the modules together: with magnets, with cables or with break-out holes. "The easiest way is to use the magnetic connectors because kids can snap the modules together in any orders without concerning connecting to the wrong port," said Mouser.
The magnetic parts are the removable white blocks seen on the ends of some of the modules in the photo.
Seeed Studio Grove Zero Module Matcher softwareProgramming is through the Arduino integrated development environment (IDE) as well as through a custom programme called Module Matcher for beginners or the Microsoft MakeCode graphical interface for more advanced users.
"With student resources, a teacher's guide, and detailed curriculum written by experienced educators, the Grove Zero Starter kit allows teachers bring these lesson into their classrooms, regardless of previous experience with electronics," claimed Mouser. The teachers guide includes enough information to allow complete novices to be use the kits.
Mouser Seeed Grove ZeroThe boards are: MCU, LED matrix, buzzer, twin push-button, light sensor, nine-degrees-of-freedom movement, temperature sensor, sound sensor, power.
Output boards are white, input boards are blue, the min processor board is pink and the battery board is green.
There is an introductory video.