electronics-journal.com
Written on Modified on
Main Theme - Smart Sensors made smarter using custom ICs and SiPs.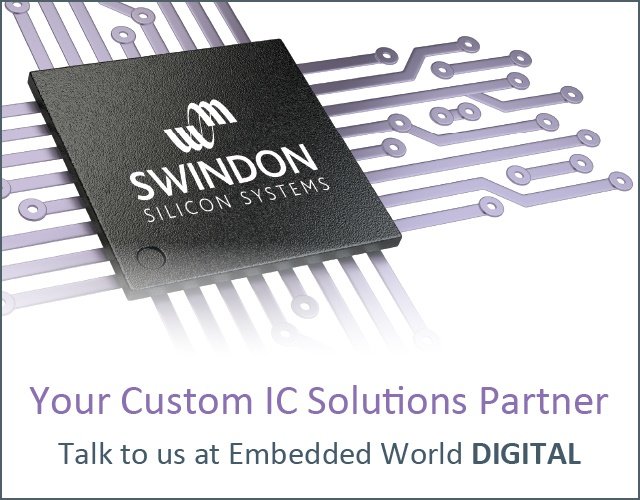 Swindon Silicon Systems, a Sensata Technologies company, today announced that it is taking part in the upcoming Embedded World exhibition & conference, which will be a completely digital event this year.
Swindon is a leading provider of custom integrated circuits (ICs), including Tyre Pressure Monitoring System (TPMS) ICs, for the industrial, industrial IoT (IIoT) and automotive sectors. Its custom IC sensor solutions measure pressure, temperature, position, acceleration and proximity, among others. Swindon's focus at this years' Embedded World is the industrial sector with an emphasis on smart sensors and the IIoT.
Swindon's engineering expertise and innovation in sensor interface Application Specific Integrated Circuits (ASICs) for the connected world help engineers design intelligent and efficient factory automation and control systems that increase productivity, extend system life and save energy.
To learn more about how custom ICs can help improve end product design, visit Swindon Silicon Systems online during the digital event by clicking
www.embeddedworld.de
Smart Sensors
Smart sensors function by sensing, measuring, processing and interpreting and are the interface between the physical and the digital world in today's increasingly automated arena. Swindon specializes in incorporating these functions into a mixed signal Application Specific Integrated Circuit (ASIC) or a System in Package (SiP) solution which provides many advantages and performance enhancements for the smart sensor over traditional discrete component-level solutions.
ASICs and SiPs offer many advantages
Enhancing a product with a customer specific IC brings many advantages including greater functionality, smaller size and lower overall cost. A custom IC solution will also reduce a user's inventory and bill of materials, protecting the originator's intellectual property and provide longevity of their product life through non-obsolescence assurances. This is in sharp contrast to a solution manufactured using mainly standard components that are often made obsolete once the part is no longer sold in high enough volume by the supplier.
End to End Solutions
Remarking on the value of the event, Richard Mount, Swindon's Sales and Marketing Director, said, "We are excited to be taking part in the digital event his year. Standout features of Embedded World have always been the quality of the visitors and the wide range of projects that they wish to discuss with exhibitors." Richard adds, "We look forward to engaging with visitors to learn about their needs and to demonstrate how, as an end-to-end custom IC solutions company, our close partnership and collaboration with customers throughout the entire design and production process sets us apart from other suppliers."
www.swindonsilicon.com