electronics-journal.com
Written on Modified on
TOSHIBA: BATTERY ENERGY STORAGE SYSTEM MONITORING TECHNOLOGY CAN HELP ACHIEVE CARBON NEUTRALITY
Battery Energy Storage System plays a key role in electricity supply-demand balancing, essential for the roll-out of renewable energy. The "balancing as a service" that monitoring enables can help achieve carbon neutrality.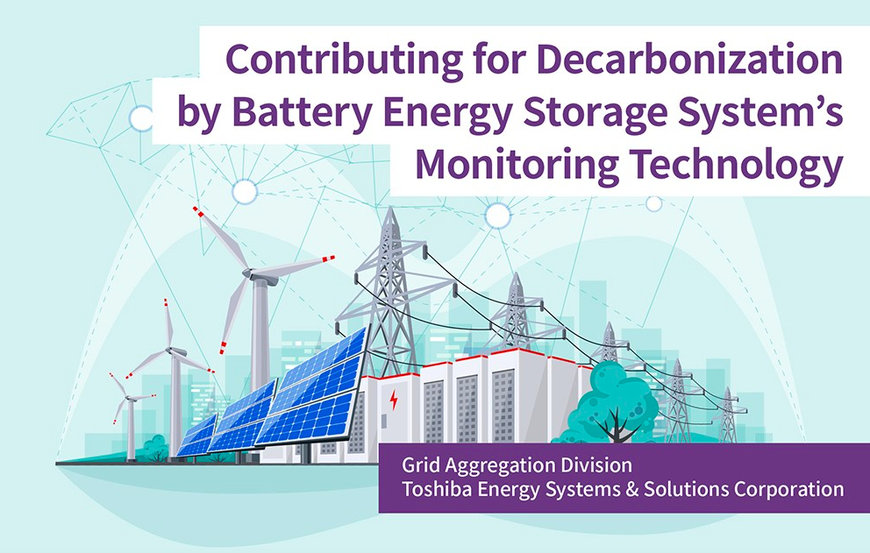 As climate change makes weather more variable and unpredictable, it is essential that we achieve carbon neutrality, which means reducing net emissions of greenhouse gases to zero. A key part of that effort is the promotion of renewable energy, such as wind power.
Unlike oil and other fossil fuels, renewable energy does not run out and does not directly emit CO₂. The drawback is that it depends on weather conditions, and its provision of power can be unstable. What is needed is a Battery Energy Storage System (BESS) that adjusts the amount of electricity by taking in and drawing out from the system, and it is vital that the battery system and its batteries used are appropriately monitored for malfunctions and defects.
Toshiba has a number of battery monitoring technologies, which can enable the adjustment of electric power and the roll-out of renewable energy.
Addressing carbon neutrality with BESS-based electricity Demand-supply Balancing

As the movement towards carbon neutrality picks up momentum, conventional energy supplies are being reevaluated. Renewable energy is becoming increasingly prominent as a replacement, but the amount of power that it generates is not stable, being subject to variations in environmental conditions.
According to Takahiro Kase, who heads Toshiba's electric power distribution service business, BESS has an important role to play in the power grid in electricity Demand-supply Balancing; and the development of a market for electricity Demand-supply Balancing will encourage the roll-out of renewable energy.
The point to bear in mind is the frequency of the electricity supply. Lack of frequency can result in large-scale power outages. A major source of disruption is an imbalance between demand, the electricity consumed, and supply, the amount generated. Electrical equipment does not work well if a balance is not maintained between power generation and demand.
When there is an imbalance, electricity is momentarily transferred to and from BESS to restore the balance of supply and demand. This is called a BESS for Demand-supply Balancing, and Japan is expected to see increased deployment of such systems in the future.
Toshiba produces the SCiB™ rechargeable lithium-ion battery, which is ideal for electricity Demand-supply Balancing because of its long service life and rapid charging and discharging. The SCiB™ has a role to play in the transition to carbon neutrality.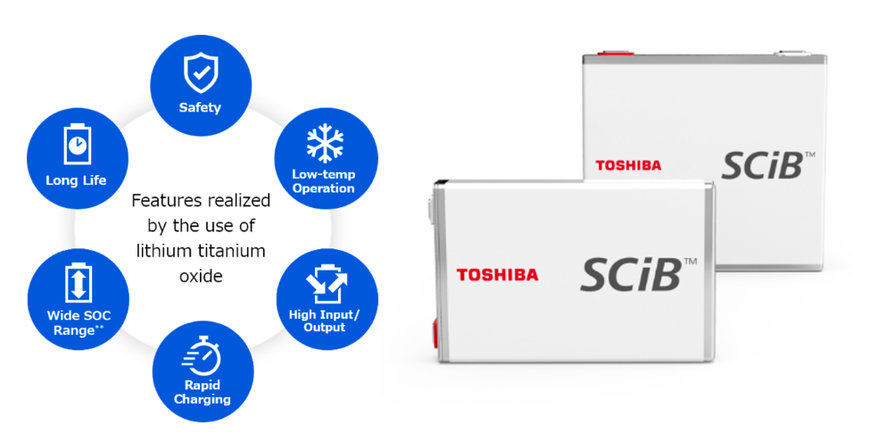 Maximizing performance by using multiple monitoring technologies to diagnose BESS

Toshiba also excels in monitoring technology for assessing the condition of BESS. The four main monitoring technologies are the Charging Curve Analysis Method, Battery Capacity Estimation Testing, the Deviation of State of Charge (DSOC) method, and the Voltage Deviation Method (VD). Kenji Mitsumoto, who works in the Energy IoT Department, uses the metaphor of a medical checkup to explain these terms.

BESS and monitoring technology work as a set to provide peace of mind and promote the roll-out of renewable energy

Toshiba aims to use IoT technology to provide the solutions vital for the next generation of electric power distribution. The idea is to provide a service that absorbs any disruptions in the electricity supply-demand balance by charging and discharging BESS.
BESS monitoring technology is also important for VPPs, which are expected to expand further with the emergence of the Demand-supply Balancing market. Again, VPP refers to distributed power generation and storage facilities that are remotely controlled by IoT devices in response to supply and demand conditions, so that they function as though they were a single power plant.
Carbon neutrality and more renewable energy are necessary to address global warming. Toshiba is working on using monitoring technology to assess the health of BESS, to implement it as a solution to this problem.
www.toshiba.com