electronics-journal.com
Written on Modified on
AMD ANNOUNCES NEW EPYC EMBEDDED 9004 SERIES
The new energy-efficient EPYC Embedded 9004 Series combines embedded system-optimized features, enhanced security and scalability of up to 96 cores.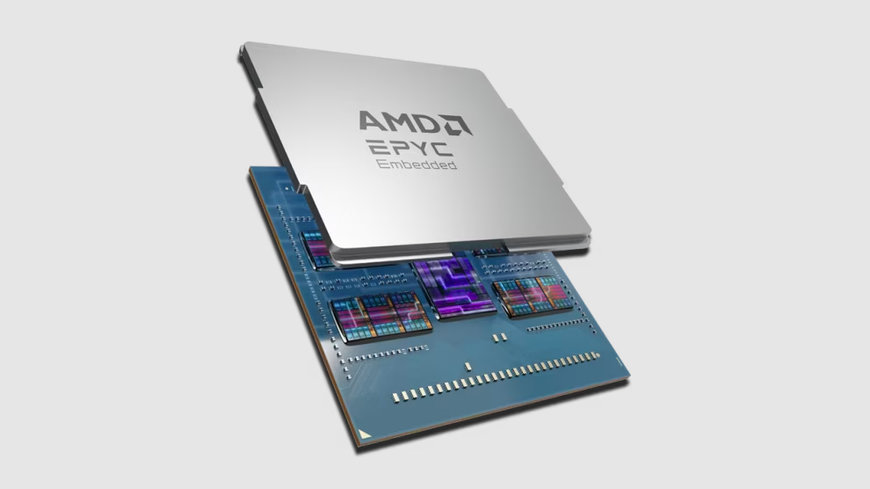 AMD recently announced it is bringing world-class performance and energy efficiency to embedded systems with
AMD EPYC™ Embedded 9004 Series
processors. The new 4th generation EPYC Embedded processors powered by "Zen 4" architecture provide technology and features for embedded networking, security/firewall and storage systems in cloud and enterprise computing as well as industrial edge servers for the factory floor.
Built on the "Zen 4" 5nm core, the processors combine speed and performance while helping reduce both overall system energy costs and TCO. The series is comprised of 10 processor models with performance options ranging from 16 to 96 cores, and a thermal design power (TDP) profile ranging from 200W to 400W. The performance and power scalability afforded with AMD EPYC Embedded 9004 Series processors make them an ideal fit for embedded system OEMs expanding their product portfolios across a range of performance and pricing options. The AMD EPYC Embedded 9004 Series processors also include enhanced security features to help minimize threats and maintain a secure computing environment from power-on to run time, making them well-suited for applications with enterprise-class performance and security needs.
With AMD EPYC Embedded 9004 Series processors, customers can create a variety of embedded networking, security, storage and industrial systems that operate in the most demanding conditions. AMD EPYC Embedded 9004 offers the world-class performance and efficiency, enhanced data security features and unmatched core scalability of the EPYC 9004 Series server processor while providing unique, embedded-specific benefits to help improve reliability and system longevity including:
Non-Transparent Bridging (NTB): Helps enhance system reliability by enabling data exchange between two redundant CPUs
Non-Volatile Dual In-Line Memory Module (NVDIMM1): NVDIMM is a hybrid memory consisting of volatile DRAMs and non-volatile Flash memory that helps retain data after a system power failure or reset by saving DRAM contents to Flash
Dual Serial Peripheral Interface (SPI): Enables two off-chip ROMs to be supported for secure boot
Availability: Up to 7-year planned availability to address embedded requirements for long life and support
Customer Traction
Siemens and Advantech are among the lead OEM and ODM customers deploying the AMD EPYC Embedded 9004 Series. The processors will also be deployed by customers in networking for next-gen firewalls and software-defined routers, as well as enterprise and cloud storage systems.

EPYC Embedded 9004 Availability
The AMD EPYC Embedded 9004 Series processors are sampling now with production shipments expected in April 2023. To accelerate development, evaluation kits featuring a reference board, comprehensive documentation and development tool kits are available now to qualified customers.