electronics-journal.com
Written on Modified on
ARROW ELECTRONICS TEAMS UP WITH LIGHTSPEED
Arrow is teaming with LightSpeed to help accelerate the development of optics embedded processors for delivering superior data bandwidth capability and processing performance.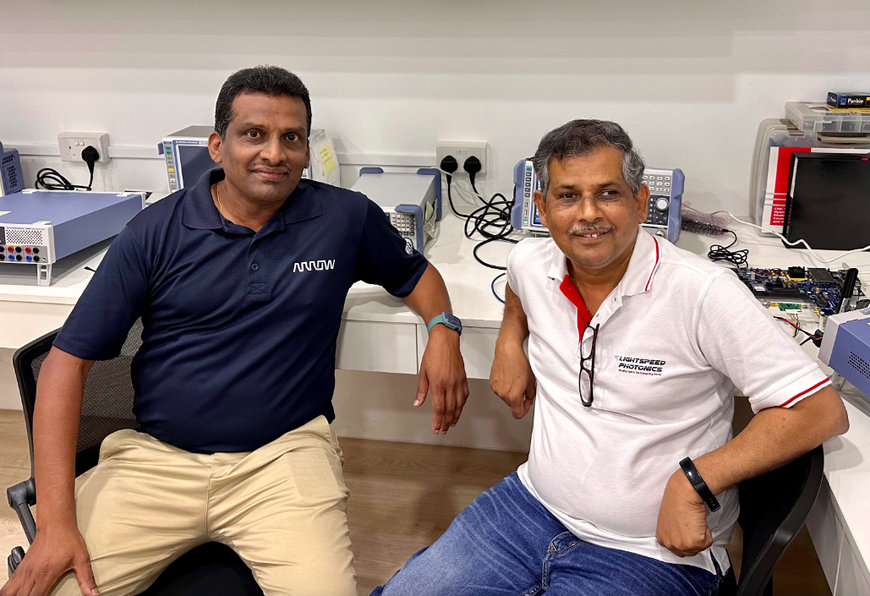 Arrow Electronics, Inc. recently announced its support for LightSpeed Photonics Private Limited (LightSpeed), a Singapore-based start-up, to accelerate the development of optics embedded processors for speeding up data input/output processing, optimizing power consumption, and enabling multi-terabit data connectivity for a wide range of applications from data center, AI, video content streaming to augmented reality/virtual reality.

Co-founded in 2021 by Rohin Kumar Y, Ph.D., CEO, and Ramana V. Pamidighantam, CTO, LightSpeed specializes in building compact, modular package of opto-electronic processors and interconnects for data bandwidth intensive applications that require real-time processing. Their patent-pending technology provides free space multichannel optical bus connecting up to four processors simultaneously. Their photonic packaging uses standard semiconductor process. Offering a modular and scalable design, the "optics-to-the chip" modules can be field-configurable to support multiple applications.

To support local start-ups community in their idea-to-prototype-to-manufacturing journey, Arrow has established the NTU-Arrow Invent Lab in collaboration with the Nanyang Technological University, Singapore since April 2022. NTU-Arrow Invent Lab acts as an innovation and experimental platform where technology start-ups develop ideas, unleash creativity, and bring their inventions to life as they tap into Arrow's global resources. LightSpeed has used the NTU-Arrow Invent Lab's equipment to test and consult and collaborate with Arrow.

Arrow engineers and technical experts have provided recommendations and advice to help LightSpeed make the solution happen, including:
Electronic-Photonic Integration: Proposing suitable components to meet customer requirements to enable high data rate optics instead of copper in the 3D package to enhance performance for the high critical operational needs of data centers together with I/O system design, and interposer fabrication.
Matching the Right Expert: Introducing suitable design partners to support customers with their design requirements and support throughout the whole journey – fabrication, assembly, validation and packaging.
Accelerating Time-to-market: Providing the NTU-Arrow Invent Lab environment and equipment required for testing with instruments - power supplies, oscilloscope, signal, and spectrum analyzer to streamline the turnaround time and processes during the prototype stage.